Accessory maker iLuv has released the iMM183, a dual-dock alarm clock with built-in weather warning notification.
The $150 iMM183 acts as a weather band radio with support for the National Oceanic and Atmospheric Administration (NOAA) weather alert system—known as the Weather Radio All Hazards (NWR) network. Using the Specific Area Message Encoding (SAME) system, the clock radio can display local text warnings and store up 10 alerts.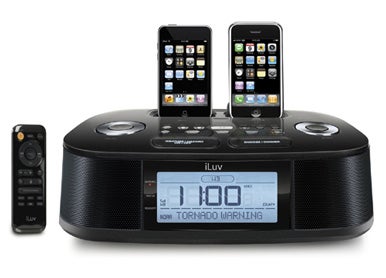 The device also features dual universal docks for charging two iPods or iPhones at the same time. You can play music from either one, and a Time Sync feature can set the time of the iMM183's clock by syncing it with your iPhone or iPod. It has two alarms, an FM tuner with six station presets, and lets you wake or fall asleep to music from your iPod or iPhone.
The iMM183 supports the iPhone 3GS, iPhone 3G, iPhone, iPod touch 2nd generation, iPod nano 4th generation, iPod touch, iPod nano 3rd generation, iPod classic, iPod nano 2nd generation, iPod with video, iPod nano 1st generation, iPod 4th generation, and iPod mini.