The Apple TV is a strange beast. Steve Jobs famously referred to his company's media-playback box as "a hobby." In early 2008 Apple released a major software update, Apple TV 2.0, that revamped its interface and added movie rentals to the mix. Yet in a world increasingly full of Internet-connected TV boxes, Apple's "hobby" has remained strangely static.
Thursday's release of Apple TV 3.0 software doesn't do a lot to change that, but for the unknown number of people who have bought an Apple TV box over the past two and a half years, it seems to be a pleasant improvement that addresses some lingering interface issues while adding whole new levels of mystery about exactly what (if anything) Apple is going to do with the product.
Revamped main menu
The highlight of the Apple TV 3.0 software update is its revamped main menu. Gone is the two-column grid introduced as a part of Apple TV "take two." Instead, there's a new interface that takes full advantage of widescreen TVs.
Spread out across the screen is a row with seven columns which forms the backbone of the new menu system: Movies, TV Shows, Music, Podcasts, Photos, Internet, and Settings. Clicking right or left determines which one of the columns is highlighted. When an item in that row is selected, the Apple TV displays a column of menu items beneath it. Spatially, this layout seems to makes a lot more sense than the old Apple TV menu.
Within the individual stacks of menu options, Apple has addressed the interface feature of Apple TV 2.0 that I disliked the most: the placement of all iTunes Store-related items at the top, with the menu item containing your own media placed all the way at the bottom. Now your media—movies, TV shows, music, and more—can always be found behind the top item of each column. It makes the whole experience feel a bit friendlier and a bit less like the entire device was created as a vehicle for Apple to sell you more stuff.
Above the menu items, in the top third of the screen, is a strip of tiles similar to the ones used in Apple TV 2.0's iTunes Store interface. But even here, Apple's has showed restraint when it comes to commerce. The first few items of the strip all feature your content—unwatched movies or TV shows, Genius mixes and recently-added albums (as well as the currently playing track, if there is one), unplayed podcasts, photos, and the like. For some media types, such as movies and TV shows, there's also integration with the iTunes store: keep moving to the right, past your recently unwatched movies, and you'll find top movies on iTunes. But it's handled with the right emphasis. More than that, the appearance of the media tiles atop the menu items makes the entire main menu seem more vibrant and interesting.
(Font fans will be happy to know that the Apple TV interface is now drawn with famous, comforting, star-of-a-major-motion-picture Helvetica. It looks nice. Even non-font geeks may notice, though they won't be able to put their finger on just what's different. However, one of our editors reported that the lighter-weight font causes flickering on his older HDTV set.)
Apple's new packages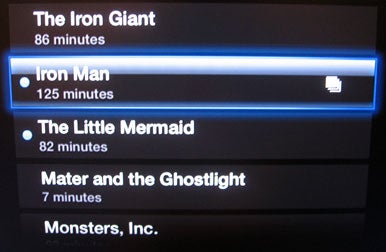 Main menu aside, the major new feature addition in Apple TV 3.0 is support for the new expanded-feature formats Apple introduced to the iTunes store back in September, iTunes LP and iTunes Extras. Since these formats bring a DVD-menu-style interface to music collections and movies, respectively, it was a natural that they'd end up on the Apple TV. And now they have.
I think iTunes Extras is a fantastic idea. It allows Apple to bundle together the bonus content previously seen only on DVDs, and make it available as a part of an iTunes download. It closes the gap between iTunes downloads and DVDs in a compelling way, and I expect that it will be come the new standard for how movies are sold on iTunes.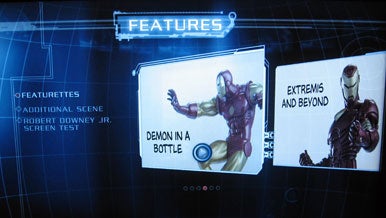 On the Apple TV, iTunes Extras work pretty much as you expect. I navigated to My Movies and chose Iron Man, which has a small icon of a stack of items off to its right to indicate that it's a film containing iTunes Extras. When I click, Apple TV brings me to the Iron Man main menu, rather than just playing the movie. At that point, it's essentially a DVD experience—I can play the movie, navigate through a list of chapters, see special features, and even see a page of ads for other stuff the movie studio wants to promote. (Let's hope the format doesn't allow for mandatory trailers and an FBI warning every time you want to play an iTunes Extras file!)
I was excited about iTunes LP, too, but after having used it on the Apple TV I'm less convinced it's a good idea. Unlike iTunes Extras, iTunes LP files just show up within an album's track listings—you have to select the iTunes LP file and click on it to launch the menu-driven interface. That's probably a fine interface choice, since it's more likely that you'd just want to pick a track than thumb through a set of virtual liner notes.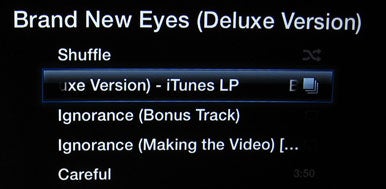 But I was still disappointed once I entered the iTunes LP interface. When you choose Play Album, the interface drops away and you're left with the standard Apple TV Now Playing screen. The same thing happens if you pick a track from an iTunes LP's Song List menu, go to the page that features song lyrics and artwork, and click Play Song.
I own a handful of DVD Audio discs, and one of the fun things those discs tend to do is display the lyrics pages for the songs as they play, along with playback controls. But iTunes LP doesn't work like that. Yes, if you want to read lyrics while a song is playing, you can click the menu button to re-enter the iTunes LP interface. But there's no way to simply start playing an album and then sit back and watch as the album art advances as each track plays.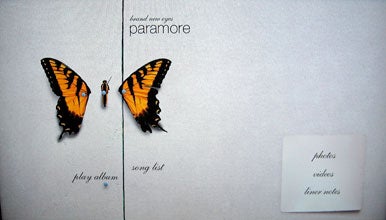 iTunes LP pages can also be quite long, scrolling things—at least that was the case with the iTunes LP I tried, Paramore's "Brand New Eyes." (Peppy punk-pop. I like it.) The scrolling interface on the Apple TV is smooth, but I completely missed the faint scroll bar in the corner that indicates that I could press the down button on my remote to scroll down and see more of the lyrics pages.
Then there's the matter of Apple's boner when it came to both these formats, which the company only released last month. People who have bought iTunes LPs and iTunes Extras in the past 50 days will discover that their files aren't yet compatible with the Apple TV. Apple will have to push out an update via iTunes to the libraries of every single person who has purchased this content. Sure, in a couple of weeks this will be nothing more than a hazy memory, but it shows a remarkable lack of planning on Apple's part.
Other new stuff
Great news, everyone: Apple has finally added streaming Internet content sources to the Apple TV! Hooray! Dance the happy dance!
No, wait a second. You're dancing because you think Apple added support for Netflix or Hulu or Vimeo or MLB.tv or something, right? Well, stop dancing. Because Apple's addition to Apple TV is a whole lot more modest than that: Internet Radio.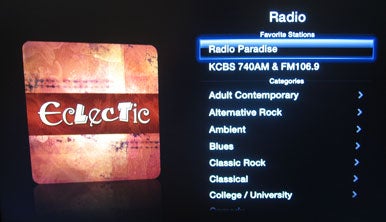 Yes, it's hard to believe that the Apple TV hasn't officially supported Internet Radio before now, but it hasn't. (You could work around this issue by adding a radio-station stream to a playlist.) Now, at last, you can choose from a large directory of sources and add favorite stations. It's great to see this feature, but honestly, it's embarrassing that it's taken this long.
The other major audio addition in Apple TV 3.0 is support for the Genius Mix feature that was rolled out with iTunes 9 back in September. This is the feature that looks at your music library and creates endless playlists of related songs and artists in various categories. Looking at my library, I ended up with a pop mix, an indie pop mix, the Coldplay/Radiohead/Oasis mix, an embarrassing pop mix, a punk/grunge mix, a power pop mix, a '70s rock list, an '80s rock list, and a collection of children's music. Okay.
The Photos section of Apple TV has been upgraded as well. If you sync your photos to the Apple TV, you'll find support for iPhoto events and the ability to browse photos by face, courtesy of iPhoto's Faces feature.
On the iTunes side, Apple TV syncing has been greatly improved. You can now select individual shows and individual episodes to sync, echoing the iPhone- and iPod-syncing improvements introduced with iTunes 9.
So, now what?
As far as I can tell, the Apple TV 3.0 software update improves the Apple TV I bought in 2007, and I'm grateful for that. The new features are welcome, and I think that iTunes Extras has the potential to drain all remaining enthusiasm Apple TV owners might have had for buying DVDs.
And yet…
It's impossible to talk about the Apple TV without asking the big question: Where is this relationship going?
With the exception of price cuts and storage improvements, the base Apple TV hardware hasn't been improved since it was released. It's running a 1GHz Pentium M processor and has a measly 256MB of RAM. It can't play video of any resolution higher than 720p at 24 frames per second, and I've actually seen it struggle and drop frames consistently even on those "supported" HD video files.
The $229 Apple TV is increasingly surrounded by competitors, from Roku's $100 Player that streams Netflix and Amazon Video on Demand to media extenders for the Playstation 3 and XBox 360. Right now the biggest advantage of Apple's box is simply that it's the only one that can play videos purchased from iTunes. But it remains woefully ignorant of the rest of the Internet—the addition of Internet Radio at this late date proving the point.
Then there's the Mac Mini, which has turned into a powerful, competent device that works well as a home-media server. But the Mac Mini doesn't have the plug-it-and-forget-it ease of use of the Apple TV, and Front Row lacks some of the best features of Apple TV (namely its ability to seamlessly meld the contents of a remote iTunes computer and its own iTunes library). Front Row replacements such as Boxee and Plex are promising, but not exactly friendly to less geeky users. Not yet, at least.
Perhaps Apple is content with Apple TV never being anything more than a front-end for the iTunes store. Or perhaps Apple is well aware of its device's limitations and is hard at work on a new version with upgraded hardware and improved support for the rest of the stuff that's out there on the Net.
Steve Jobs said, "The reason I call [Apple TV] a hobby is, a lot of people have tried and failed to make it a business. And it's a hard problem. So we're trying. I think if we work on it and improve things over the next year, 18 months, we can crack that."
That was 29 months ago. Apple still hasn't cracked it. Apple TV 3.0 is a nice, mild update to an outdated piece of hardware that's still not nearly as capable as it should be. The real question is, what's next for Apple's hobby? If Steve Jobs knows the answer, he's not talking.