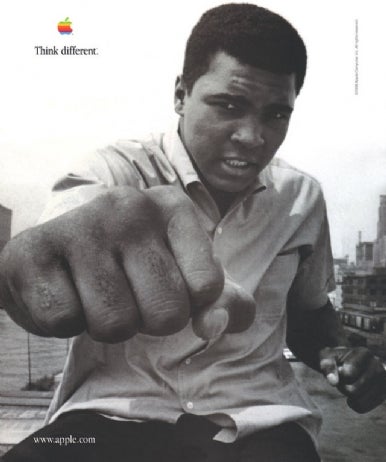 Lee Clow has served as the chief creative officer TBWA/Media Arts Lab, which handles Apple's advertising business, for a long time. Clow is the man behind Apple's iconic "1984" ad, the Think Different campaign, the dancing silhouettes that shill iPods, and the neo-classic "Mac vs. PC" campaign starring The Daily Show guy and Drew Barrymore's sometime boyfriend.
Now, though, he's stepping down from directly overseeing the Apple account and relinquishing his post as chief creative officer of the Media Arts Lab, according to AdAge. (He'll stay on as chairman and global director of Media Arts Lab and as chief creative of the TBWA network, according to the same report.)
Clow is also known for his work on the Energizer Bunny and the Taco Bell Chihuahua, but apparently never saw fit to attach a cuddly animal to Apple's brand—like the Macintosh Muskrat or, and we're just spitballing here, a half man, half antelope, half Mac.
Taking over for Clow is Duncan Milner, who's served as executive creative director on the Apple account since 1990, and has also worked on Nissan, Levi's, and Pedigree.
Still, we can't help but wonder, given this particularly appropriate change, what would Don Draper do?
Update: In a reputed memo to staffers, Clow clarified that Milner's promotion was meant to reward the "great job he's been doing leading the Media Arts Lab," and that the focus should be on Milner's success, and not Clow's evolving role. Clow added further that he's working "every day, meddling in everything that goes on, pushing the creative on many brands including keeping an eye on Apple."
[via The Mac Observer]
Note: When you purchase something after clicking links in our articles, we may earn a small commission. Read our affiliate link policy for more details.