This just in: Apple's iTunes 9.0.2 update not only allows Palm Pre syncing, it embraces it wholeheartedly, offering to let you transfer all of your content to one of Palm's devices to make it easy to switch to the rival handset and ditch your iPho—oh, whoops; apparently, I started reading my Bizarro World RSS news feed this morning.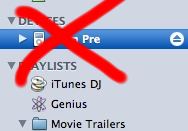 No, in a far less surprising development, iTunes 9.0.2 once again blocks Palm's attempt to ride on Apple's coattails. The cat-and-mouse game between the two companies reminds me of some of my favorite classic John Le Carré Cold War espionage dramas—you know, if Cold War espionage dramas had been really boring and primarily revolved around arcane details of software development.
Palm, you may have earned some points for being cheeky when you first boasted that the Pre would sync with iTunes, but at this point, you just look lazy—like you didn't want to spend the time or energy developing your own Mac-compatible software. Even RIM took the time to make its own Mac software. Heck, you could just be using doubleTwist for media sync—which, we'll note, is already compatible with the yet-to-be-released Motorola Droid—and that would have been fine. But no, you had to base a marquee feature of your flagship product on a hack—and an easily blocked hack, at that.
So, Rubinstein and co., it's time to dial back on the spat with Apple. Your attempt to call in the USB Implenters Forum backfired; you don't really have much recourse left, short of trying to sue Apple and let's be honest—you've already bet the company on the Pre, so banking on lawsuits probably isn't the best move at this point. If nothing else, you still have the chance to look like the bigger person by being the one to stand down. But that window is rapidly closing, so think quickly—and think different.