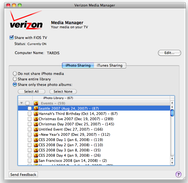 Mac users of Verizon's FiOS TV can sigh less deeply: Media Manager, the software that has allowed FiOS TV users to stream music, photos, or video from their Windows PCs since last summer now has a Mac version.
It does have one major limitation, though. While the Windows version automatically scans every connected hard drive and device connected to that PC for media that can be streamed, Media Manager for the Mac only lets you sync music from iTunes and photos from iPhoto. Kind of a bummer, Verizon.
You can import iPhoto slideshows as videos, which is nice I guess, but that doesn't quite shake off the feeling that Mac users are being treated as second class citizens. It could be worse, however—I still have terrible memories of having to install Internet Explorer for Mac OS X to get Verizon DSL to work on an Intel Mac in 2008. Spooky!
Once you get over the disappointment of not being able to stream video to your FiOS TV DVR set-top box, using Media Manager for the Mac is quite simple to use. After agreeing to a very long Terms of Service and installing the program onto your Mac, you check off boxes to select iPhoto albums and iTunes playlists. When you're done, all you have to do is check a box to sync your music and photos with your DVR. I'll admit, it's pretty slick at what it does—if only it could do more.
Media Manager for Mac requires OS X 10.4 or later, iTunes 7 or later, iPhoto '06 or later, and (deep breath) QuickTime 7 or later. You'll also need your DVR to be connected to the same home network as your Mac, using Verizon FiOS Internet and (of course) a Verizon-supplied router.
[via Zatz Not Funny!]