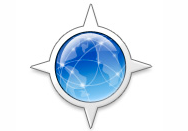 The Camino Project has unveiled a release candidate for Camino 2, a Mac-only Web browser based on the same Mozilla rendering engine that powers Firefox.
You remember Camino, right? Back in the day, it was a glorious Web browser that didn't suffer from the "un-Maclike" feel that burned Firefox—and it pre-dated the arrival of Safari by a year. When your options were Internet Explorer or the Windows-esque Firefox, Camino (née "Chimera") was a welcome, fully-native alternative.
Camino 1.0 was released way back in February 2006. The 2.0 release candidate adds numerous features tokeep the program competitive with the modern browser landscape, including phishing and malware protection, flash-blocking, full content zoom, improved software update features, tab dragging, and a surprisingly useful "Recently Closed Pages" option listing the last 20 web pages you closed.
The release candidate is still a beta preview release; it requires Mac OS X 10.4 or later. The latest stable version of Camino is 1.6.10.