Software–good software, at least–is in a continual state of evolution. It's one of the most impressive things about the current state of affairs in technology, even if it's something most of us take for granted. Once upon a time, you bought a device, and how it was at that point was basically how it was for the rest of its lifetime.
But software can change and improve. Case in point: a recent story in the Wall Street Journal suggested that opinions on Apple Maps have changed in the decade since its tumultuous release. Once the (rightful) butt of jokes, it's now become a respectable piece of mapping software in its own right, a worthy competitor to Google Maps.
And it's not the only piece of Apple software to follow such a trajectory. The company has spent a lot of time working on several of the core apps across its platforms, trying to ensure that they provide a great experience. Are there third-party options that are equally good? Absolutely, and in some cases, better. Still, while Apple could have rested on its laurels with its built-in apps, getting them just to the point of "good enough," there are plenty of places where it has added features and enhanced capabilities year after year. If you haven't checked them out recently, here are three that may be worth another look.
Take note
Perhaps no app in Apple's catalog has come as far as Notes. When it debuted with the original iPhone in 2007, Notes was the height of skeuomorphic design: a yellow-ruled notepad with just a single font option, the much-maligned Marker Felt.
Foundry
But those days are long behind it. Notes has had a few major overhauls over the last 16 years, and along the way has become an incredibly capable app that rivals its more full-fledged text editors and word processing: improved formatting, tables, checklists, collaboration, password protection (including using Face ID or Touch ID), tags, smart folders, drawing, and handwriting recognition, just to name a few. Plus, on the Mac, you can use any font you've got installed. Even, yes, Marker Felt.
This year's platform updates are also adding two features that take Notes even further. First, you'll be able to link between notes (the easiest way to do so is to type >>, at which point you'll get a drop-down menu of notes that you can search), which is helpful for cross-referencing. Second, you can embed full PDFs within a note and even mark them up in real-time, which is a particularly helpful feature if you happen to collaborate on those documents with co-workers or others.
I've used Notes as my go-to brain dump for years now, simply by virtue of its solid syncing features. I've got almost a thousand notes in there now, and I don't think I'll be slowing down any time soon.
Be kind, remind
The original Reminders app was—not unlike Notes—a bit sparse. Debuting in iOS 5 and macOS 10.8, it was a very simple and straightforward to-do app, underpowered compared to most of the existing options in the space. But the team building it (which, not coincidentally, is also the team responsible for Notes) has spent a lot of time beefing it up in recent years to the point where it respectably holds its own.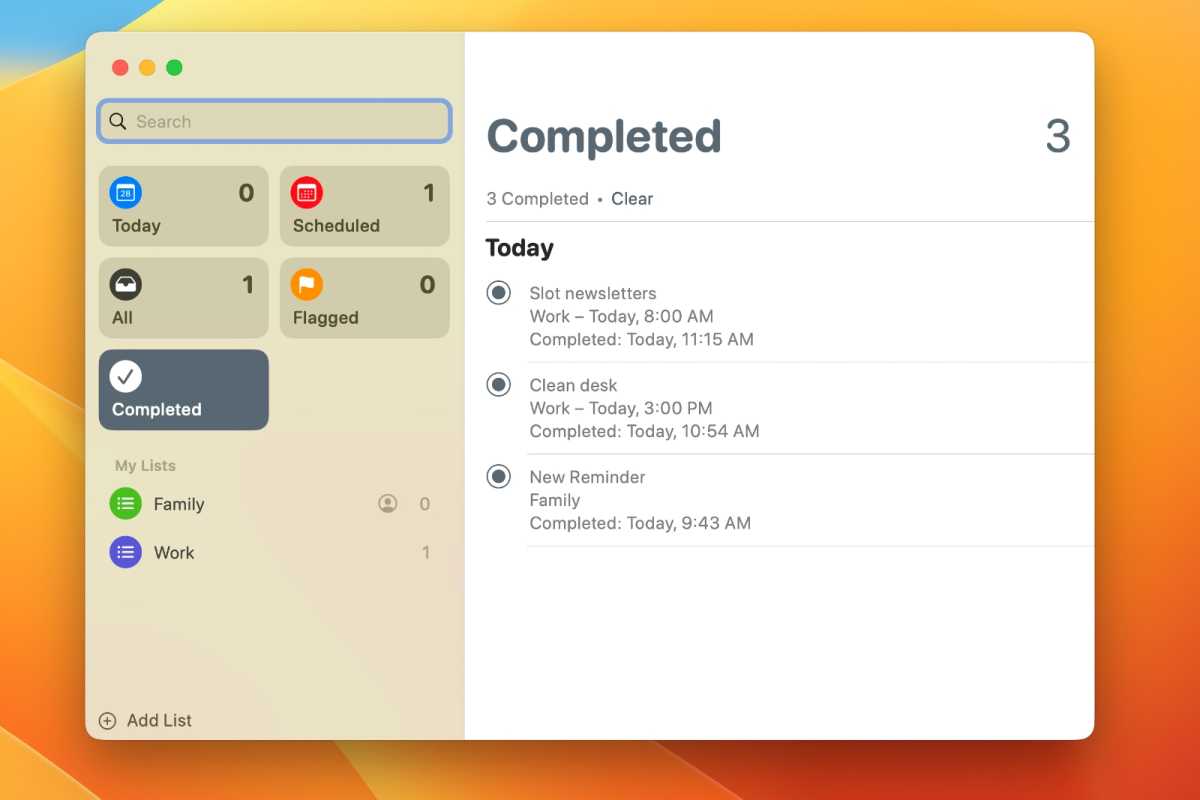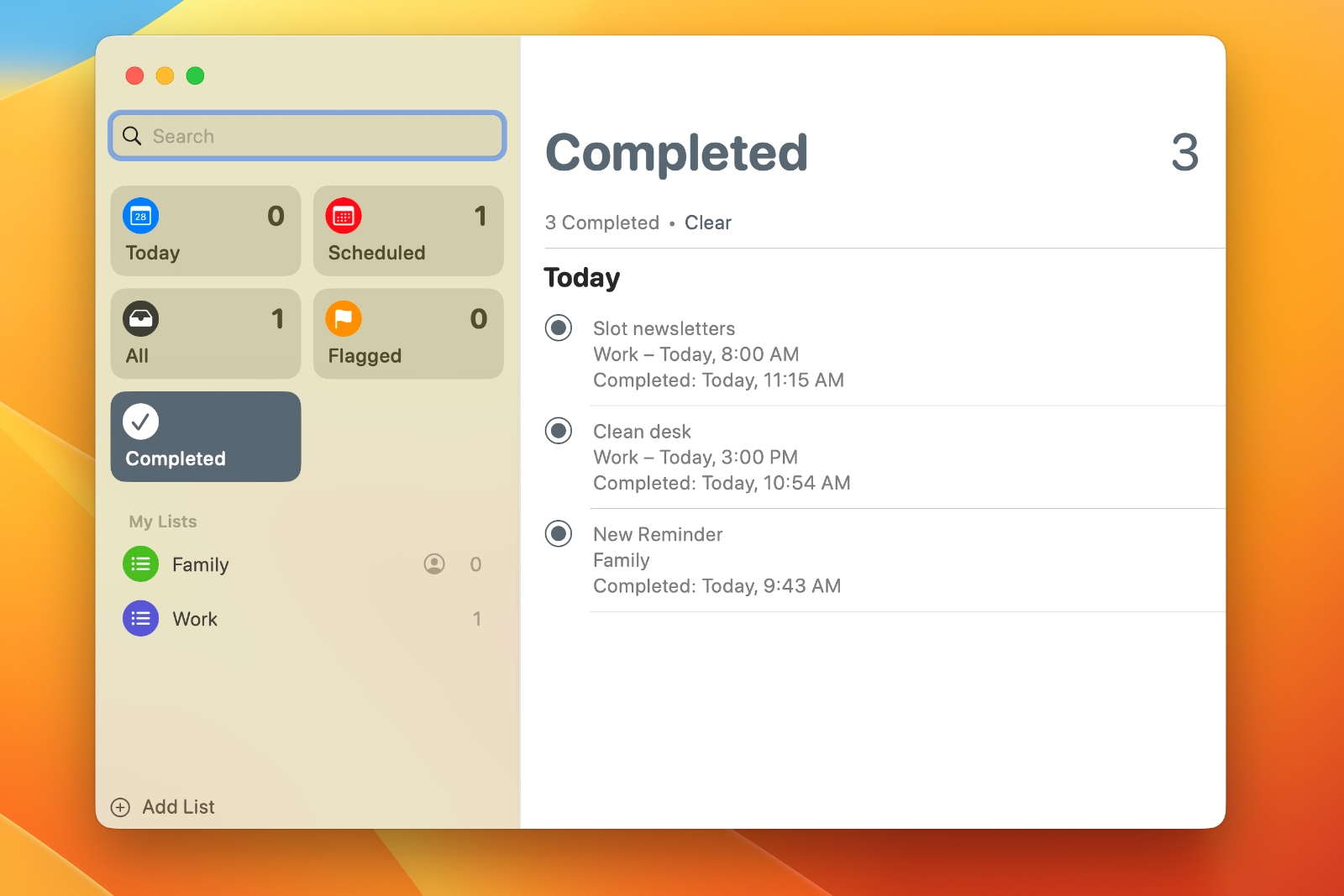 Foundry
I've tried a variety of different to-do apps over the years, but Reminders has ended up being the one that I've stuck with, thanks not only to its existence across Apple's platforms but also integrations with other apps and services. With the addition of features like tagging, list templates, pinned lists, smart lists, subtasks, and way, way more, Reminders has become a to-do app that can fit just about any need.
I'm really looking forward to the latest updates to Reminders, though: this year it'll get the ability to automatically categorize items on a grocery list (produce, bakery, butcher, etc.) as well as create your own categories of reminders. As someone whose household currently relies on AnyList for our grocery shopping, I think these latest additions might finally get me to the point of one to-do app to rule them all.
Pod people
Apple's Podcasts app is hardly unpopular, but amongst certain groups of users, it's definitely an also-ran. But I've been using the Podcasts as my go-to podcast app for a long time and while it isn't perfect, I've found it to do the job more than adequately.
The more recent versions might lack the whimsical reel-to-reel tape designs of the original app, but I appreciate its Up Next queue, ability to create stations of podcasts and quick access to chapter markers. Plus it's got stellar CarPlay support and, obviously, the virtue of the built-in access to Apple's podcast directory.
And upcoming updates like search filters, queue improvements, and the ability to display per-episode artwork look like they're going to make the Podcasts user experience even richer. While apps like Overcast, Castro, and Pocket Casts have their stalwart fans, there are a lot of casual users for whom Podcasts simply works the way their brain does.