At a Glance
Expert's Rating
Pros
One-screen workflow saves time
Great quality finished audio tracks
64-bit processing
Supports VST3 plug-ins
Stable and reliable
Cons
Doesn't have tools for auto-correcting drums to fit the tempo
Not a mature product
Does not emulate amps and pedals quite as well as Logic Studio
No vocal auto-tuning
Our Verdict
Recording music is fun, rewarding, and highly creative. But the process of recording can be amazingly technical: you might have cables running everywhere, microphones and instruments connected through a special hardware interface, and a software program to tie it all together. In recent years, the audio software of choice for Mac users has been either Digidesign Pro Tools or Apple Logic Studio ( ). Now, with PreSonus Studio One Pro 1.0.1, there's a new kid on the block.
For amateurs and professionals alike, Studio One is a powerful recording package. It includes some 4,000 loops and more than 300 instrument sounds, and a sleek gray and black interface. The program lets you find recording options easily: everything is right there on one main screen. Studio One avoids palette overload and sticks to the basic GarageBand model of making options accessible.
For those who already own a PreSonus hardware interface (such as the FireStudio, an 8-channel, rack-mounted system for recording up to eight vocals at once), the company offers Studio One Artist as a free upgrade (if you purchased within the last year). This version of the program comes bundled with FireStudio audio interfaces and is also available as a standalone software package. The Artist version differs from the Pro version in that it does not include the 4GB loops library and does not have the Project feature for final mastering and burning of songs.
Although Pro Tools and Logic are mature products, Studio One Pro provides a unique workflow that produces excellent results. Even as a new product, Studio One supports VST3 plug-ins for adding extra sound effects and instruments to the application.
Audio workflow
The term "workflow" describes the steps required to produce creative content. With an audio recording application, the better the workflow, the faster you can record a song.
Studio One features two main tabs: Song and Project. For a song, you add tracks for drums, guitar, vocals, MIDI, and anything else you want. As you record new tracks, you can listen to previously recorded tracks at the same time. When you're done listening to and choosing the tracks you want to include, you click Project to mix the song and create a final file and/or an audio CD. For example, in the Project tab, you might add extra compression to make the song sound crisper and livelier. Or, you can adjust EQ settings to help isolate certain parts of the song so they sound more distinct. Having all of these tools at your fingertips, in one application window, is tremendously helpful.
Studio One provides a unique method for working with audio effects. In Logic, for example, you use panels that resemble an audio hardware front panel, perform music for that track, and apply the effect. In Studio One, you drag and drop effects into the track itself. You still see the audio hardware panels (they look just as cool as the ones in Logic), but the effect is integrated into the track as opposed to being a separate window. This can be a little confusing, but it makes perfect sense. Once you add effects to a track, you can access them in a mixing panel below the main recording window. Effects are non-destructive, so you can revert to the original audio recording if you want. You can also remove effects easily.
Studio One has another unique feature. While it's a 32-bit app, the program actually processes audio in 64-bits, so it is using smarter, more reliable programming routines. By early next year, PreSonus says it will release a full 64-bit version of the program for Mac that can access RAM over a 4GB allotment.
How well does it work?
Studio One offers many of the same features as other recording apps. It has a large library of instrument samples and loops and the interface is easy to use. The real question for anyone considering the 1.0 release of an audio recording program is: does it work? To find the answer to this question, I recorded several songs and tested out just about every feature. Studio One ran reliably and never crashed. Effects worked extremely well, with a plethora of settings available to tweak the sound just the way I wanted. The final songs–adjusted for compression, EQ, and volume–sounded robust and professional. I found Studio One produced better final audio tracks than the Roland BR-600 digital recorder I once used to record an entire CD, with more distinct EQ and great quality.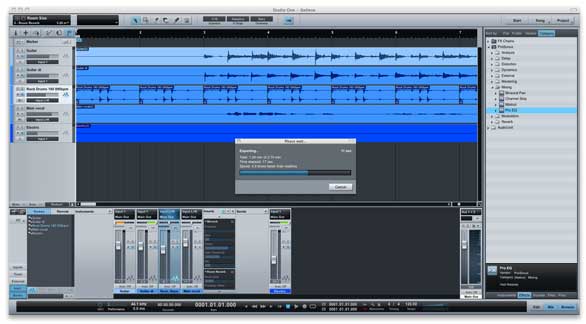 I've also used Cubase on a PC, and to further test the capability of Studio One, I recorded the exact same song using both programs. With Studio One, the process was faster–thanks to the one-screen workflow. The final song also sounded much better when produced with Studio One.
Price is another consideration. At $399, Studio One Pro costs $100 less than Logic Studio and $100 more than Pro Tools M-Powered (the version that does not ship with any Digidesign hardware recording gear). Thus, in terms of price, Studio One Pro is in the same league as other pro recording apps.
So what's missing? A few things. Studio One does not emulate amps and pedals quite as well as Logic Studio, and it doesn't have tools for auto-correcting drums to fit the tempo, or any kind of vocal auto-tuning.
Macworld's buying advice
For those who never buy a 1.0 product, just on principle, now might be the time to break the rule. Studio One Pro 1.0.1 has an arguably more appealing interface than Logic Studio, the one-screen approach is easy to use, yet really powerful, and the app is a solid and stable performer. Plus, the musical results are impressive. I own Logic Studio, but I plan to record more songs with Studio One.