Apple will never lack for opinions about how it should be running its business. Unfortunately almost all of it's bad. Retrevo is still working the netbook thing (netbooks are so last year!) and a collection of tech pundits weighs in on whether the iPhone will win the mobile wars, causing metaphors to run wild. And, as Microsoft tries to copy Apple's retail experience, Apple starts running serpentine!
Trolling for dollars
Our good friends at Retrevo were back this week, this time with a survey that says while most Mac users would be willing to pay more than $600 for an Apple tablet, most PC users want to pay less than that.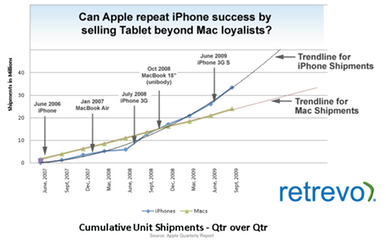 Unlike their previous survey, which showed how netbooks were going to ruin Apple's back-to-school season (only they didn't), this one was conducted by a third party and was of the general public, not just visitors to Retrevo's site.
This is a smart marketing move by Retrevo, of course. It's the same tactic Greenpeace used—lob inflammatory press releases at a highly visible company with an enthusiastic user community and watch the links come in.
Except Greenpeace actually had a something of a point and Retrevo's only point here is that PC users are cheaper than Mac users. Thanks for the news flash, Anderson Cooper.
But beyond the obvious, isn't it a little ridiculous trying to price a device that doesn't even exist yet? You know, one we don't even know the specifications for? Of course it is. Besides, you can rest assured that if and when the mythical Apple tablet does get released, people will complain that it's too expensive no matter how much it is. People complain that 99 cent applications are too expensive.
The Macalope's not going to venture a guess about how much a device we know nothing about should cost. You could say that Apple doesn't have a mobile solution in the $400 to $900 range, but the brown and furry one has long argued that the iPhone is more expensive than the unit price because you have to buy a cell phone plan.
Retrevo goes on to claim that by not launching the tablet now, now, NOW!!!1!ONE!, Apple has missed out, because the entire planet is planning on buying a netbook for Christmas and then, apparently, time will stop and no one will ever buy anything ever again. Or something.
See, the thing about netbooks is, many are purchased, but few are loved.
Retrevo's conclusions:
Based on Retrevo's Gadgetology study, if Apple wants to grab a larger market and get in on the netbook craze…
It doesn't.
…it will need to attract PC owners to generate significant sales. To convert PC owners to Apple owners, Apple must consider a (close to) $600 price point for the tablet and they must not delay bringing it to market.
Yes, clearly it's time to stop rolling around in piles of cash and start panicking.
Read more…
Jedi mind tricks
Retrevo's not the only one who's got the predictamacating bug. Over the past week, Robert Scoble predicted 85,000 apps mean other phones won't disrupt the iPhone, Mike Elgan foretold a win by both the iPhone and the Kindle and Joe Wilcox prophesied that the iPhone cannot win the smartphone wars.
The Macalope would like to first point out that despite being a creature forged in magic and tempered in mystical waters, he does not possess the ability to peer into the future. He does not lay claim to know with utter certainty what will be revealed as the curtain of time unfolds. But it doesn't take a large animal vet to guess he doesn't agree with Wilcox.
Not that he doesn't think the Android is going to do well. He does. But Wilcox doesn't even make sense.
That said, the mobile device market will be bigger than just handsets, which is where Android already is gaining adoption for use on other connected devices. Barnes & Noble's Nook ebook reader and Verizon's Droid phone are but recent examples of where Android is going, and where iPhone is not.
Wilcox mentions—then seems to forget about—the iPod touch, which makes up 40 percent of Apple's iPhone OS sales. Android's on an e-book reader from a brick-and-mortar outlet with an also-ran Web presence! Apple has nothing like that! No, it's just got the mobile gaming platform that's eating Nintendo's lunch. What was your point again?
There's a Star Wars metaphor here somewhere. Apple lost out to DOS/Windows because of the attack of the PC clones. Now the droids are coming for iPhone. Apple's power is the Force — blogger and journalist enthusiasts like Robert Scoble. Can the Force win? I say no, but you tell me.
Wow. These are not the metaphors you're looking for, Joe.
Moving target
A week after Microsoft's first store opening, Apple apparently will be changing certain aspects of its retail stores.
That is so rude! After Microsoft went to all that trouble to copy the stores, Apple just up and changes them?! You know, it takes two to copy, Apple. One to stay perfectly still and the other to do the copying.
Apple will be putting retail staff back in monochromatic shirts after customers complained finding an employee was a process of asking each and ever person in the store if they were an employee and saying, oh, my god—can you help me? Because I just want to buy this iPhone case and get the hell out of this God-forsaken mall!
Not that that's ever happened to the Macalope. One of the benefits of being a mythical beast with a Mac for a head is having pretty good Apple employeedar.
The color-coded t-shirts struck the Macalope as such a bad idea he wondered if the company didn't get wind of Microsoft's tribute band approach to retail and say "Quick! What's an easy way for us to screw up our stores without any long-term damage?!"
The other change Apple's making is to use specially-equiped iPod touches as the point-of-sale devices. Microsoft will have to "think out of the box" about how to copy that one. The Macalope recommends Zune-powered point of sale, because that sounds like the results would be really funny.
(The Macalope will be off next week.)