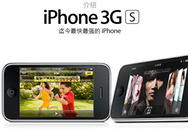 At long last, citizens of the world's most populous country can buy iPhones on their own shores, as the device went on sale in China over the weekend. Rumors of a deal with China stretch back to 2007, when the rumored partner was China Mobile, the country's largest wireless provider.
Instead, though, Apple struck an agreement with the country's other provider, China Unicom (which, to this day, I faithfully misread as "China Unicorn"). Apple COO Tim Cook and CFO Peter Oppenheimer gave a preview of the deal in last month's quarterly financials conference call, saying that plans would range between $18 per month and $85 to $100 a month with the phone itself becoming cheaper with more expensive plans.
Of course, this isn't really the first time the iPhone has appeared in China. The device has been available in Hong Kong and Macau, two of China's special administrative regions, since 2008, and both those areas and shipments from abroad have contributed to a burgeoning gray market for iPhones. The Wall Street Journal on Friday called the iPhone's reception "lukewarm" due in part to these reasons, reporting that the meager crowd at Apple's Beijing store seemed less than enthusiastic and that retail locations had plenty of the phone in stock.
Another possible reason for the iPhone's underwhelming debut is a thorny issue that goes by the apparently innocuous acronym WAPI. The Chinese government has been promulgating its own wireless networking standard, which critics suggest can be used to track users' network usage as well as enforce China's notorious censorship practices. As a result, the Chinese version of the iPhone ditches Wi-Fi in favor of WAPI. Macworld contributor Glenn Fleishman has an overview of the situation at TidBits.
Regardless of the first weekend sales, it's clearly critical that Apple be a player in the China market going forward. In a country of 1.3 billion, even modest sales should be good for Apple, and the fact that the company is in the market at all is an important strategic factor—combined with India alone, it means that over a third of the world's population can now buy an iPhone.