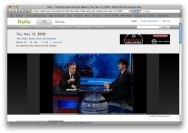 Sometimes, it seems like you just can't take anything corporate executives say at face value these days. One day, it's "we're thinking about charging for Hulu!" and the next it's "What? We would never do that! … Probably."
Entertainment Weekly, of all places, quotes a source who insists that turning the online video-streaming service into a pay site is not in the cards. Well, mostly.
A source close to Hulu, however, tells EW that the site remains steadfastly committed to free content, explaining that any possible subscription or pay-per-view service has no set timeline and would only build upon what Hulu offers, not replace it.
The earlier remarks on Hulu's pay plans came from News Corp.'s Deputy Chairman, the alliteratively named Chase Carey, who said at a conference last month that Hulu might have to turn to a subscription model to start pulling in the dough.
As I speculated at the time, this seemed like another attempt by one of Hulu's chief stake holders to hoist a flag and see which way the wind was blowing—given the amount of negative press generated by the suggestion, it was easy enough to reel it in again. Plus, Hulu gets to look like the good guy for shaking off its greedy corporate backers in favor of its users, and that kind of thing builds loyalty—loyalty that you can eventually turn into money when you do introduce some sort of pay model.
Look, I think there's little question that there will be some pay-content on Hulu in the next year or two: were the service to acquire content produced by pay cable networks like HBO, for example, or start offering new release movies that would compete with the likes of the iTunes Store. But as along as the core experience of ad-supported streaming of new television sticks around, users will likely stay put—and some of them might even be willing to hand over money for additional features (that rumored iPhone app, perhaps?) and content.