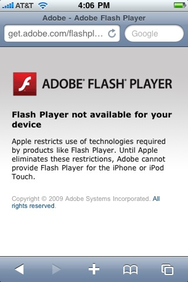 Just when you thought it was safe to go back in the water, the circle of sniping over Flash on the iPhone has begun anew. This time, the ball's being launched at high velocity from Adobe's side of the court; as Gear Diary noticed, the company has posted a passive-agressive note on the iPhone version of its Flash download page.
Previously, when you visited the Flash plug-in download page on theiPhone, it would inform you that no version was available for the platform you were viewing on. Instead, it now reads:
Apple restricts use of technologies required by products like Flash Player. Until Apple eliminates these restrictions, Adobe cannot provide Flash Player for the iPhone or iPod touch.
We cannot imagine how much restraint it must have taken Adobe not to add a "Boo yah!" at the end of that.
We all know that you can't view Flash content on your iPhone, for reasons that are open to debate—true, it does violate Apple's iPhone SDK ban on interpreted languages, but Flash also runs poorly in general on OS X, and we all know that Apple's a stickler for good performance. And that's just the technical reasons: you could easily add a few political ones to the mix.
Adobe made an end-run around Apple last month, when it announced that forthcoming Flash CS5 Professional will allow developers to write applications in Flash that are then compiled to run on the iPhone. It remains to be seen how, or indeed if, Apple will respond though my guess is the company is banking on users being underwhelmed by the offerings that Flash programmers will produce.
As for whether Flash will ever officially make its to the iPhone, well, I wouldn't hold your breath, Adobe. I'd guess Apple has no plans to cave before our sun goes dim in the sky above. But when all you've got is rocks, I suppose you might as well throw 'em.
[via Engadget]