At a Glance
Expert's Rating
Pros
Impressive set of features
No longer a very poor value compared to the $599 model
Tiny size
All the dramatic improvements of the Early 2009 model plus better performance
Cons
Performance increase over $599 model still not dramatic
Difficult to upgrade
Slow hard drive
Our Verdict
The Mac mini continues to be a great option for those new to the Mac who already have a display, keyboard, and mouse. However, the performance of this model is only slightly better than the less expensive Mac mini, making that $599 configuration a better value.
Back in March, when I reviewed the previous Mac mini models—officially called the Mac mini (Early 2009)—Apple's smallest desktop computer had just received a long-overdue refresh: it had been 19 months since the company had touched the Mac mini line. But that update was the most significant in the history of the line; while the two models retained the same $599 and $799 price tags as their 2007 predecessors, nearly every aspect of each was upgraded.
The latest Mac mini revisions—which Apple labels Mac mini (Late 2009) this time around—offer comparatively minor improvements at the same price points. Both models remain 6.5 inches square and 2.0 inches thick, weighing just under 3 pounds each. Each continues to offer a gigabit ethernet port, FireWire 800, five USB 2.0 ports, digital/analog (auto-sensing) audio input and output minijacks, a security lock slot, and an infrared receiver for the optional Apple Remote ($19). You also still get 802.11a/b/g/n wireless, Bluetooth 2.1 + EDR, and an 8X dual-layer SuperDrive. (Apple told Macworld that the mini uses a separate USB bus for every two USB ports; USB is also used internally for Bluetooth and the infrared receiver.)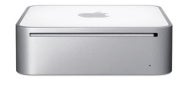 Like the early-2009 models, the latest minis include an Nvidia GeForce 9400M video processor; however, this time around the 9400M takes advantage of up to 256MB of main memory on both models. (The $599 early-2009 mini shipped with only 1GB of RAM, which limited the 9400M to only 128MB of video memory.) The 9400M again drives two video ports: a mini-DVI port that uses an included adapter to connect to standard DVI displays, and a Mini DisplayPort connector identical to those found on the current iMacs and MacBooks. The Mini DiplayPort jack works directly with Mini DisplayPort-equipped displays (such as Apple's 24-inch LED Cinema Display ( ), or even the latest iMac models, which can be used as a display); you can also connect a standard DVI display using Apple's $29 Mini DisplayPort to DVI Adapter.
As with the early-2009 minis, you can connect two displays simultaneously and use either extended- or mirrored-desktop mode. Alternately, you can use Apple's $99 Mini DisplayPort to Dual-Link DVI Adapter to connect a 30-inch Cinema HD Display ( ). Both video outputs include High-bandwidth Digital Content Protection (HDCP).
Apple continues to boast of the mini's green credentials, this time going so far as to publish an environmental report (PDF link) that covers everything from the mini's energy and material efficiency to its packaging to its recycling-friendly construction. However, the current minis use "less than 14 Watts of power when idle", up slightly from "less than 13 Watts" for the previous models.
Note that along with the new Mac mini models, Apple released a Mac mini server. We'll be reviewing that model separately.
Modest improvements
Where the latest models differ from their predecessors are in processor speed, memory, and hard-drive capacity. The $599 model now ships with a 2.26GHz Core 2 Duo processor, 2GB of 1066MHz DDR SDRAM, and a 160GB SATA hard drive (up from 2.0GHz, 1GB, and 120GB, respectively). The $799 model now sports a 2.53GHz processor, 4GB of RAM, and a 320GB hard drive (improved from 2.0GHz and 2GB; the previous $799 model had the same hard-drive capacity). All hard drives remain 5400rpm, 2.5-inch SATA drives; while these drives reduce energy use and help keep the mini, well, mini, they also provide poor performance compared to larger desktop drives.
The system bus on both models remains at 1066MHz, with the CPU hosting a 3MB Level-2 cache. The $599 model can be upgraded, when purchasing from Apple, to a 2.53GHz processor, and the $799 model can be upgraded to 2.66GHz; each upgrade costs $150. (The $599 model cannot be upgraded to 2.66GHz.)
Both Mac mini models also now support Apple's USB-powered MacBook Air SuperDrive, even though the mini has its own built-in SuperDrive. This change results from the new Mac mini models using most of the same internal circuitry as the Mac mini with Snow Leopard Server, which omits an internal SuperDrive in favor of a second hard drive.
Rounding out the list of improvements, the newest Mac minis also ship, as you would expect, with Snow Leopard. They continue to include iLife '09.
Still upgradeable
Apple confirmed that you can still upgrade your mini without voiding the warranty. However, as in the past, upgraded components—third-party RAM and hard drives—are not covered by the mini's warranty, and if you break anything in the process of upgrading, such damage is not covered.
That said, given that the $599 model now ships with 2GB of memory—what I consider a good starting point for any computer running Mac OS X—and the $799 model ships with 4GB, there's not nearly as much need to perform such surgery as there was with the previous models. And while you might be tempted to upgrade the hard drive to a larger one—or to a faster, 7200rpm model—an external, desktop FireWire 800 drive will offer more storage capacity and better performance than any upgraded internal drive.
Apple has even made it less appealing to max out the mini's RAM on your own: the $799 model is already flush with 4GB, and upgrading the $599 model to 4GB when you order will set you back only another $100—a reasonable price considering current prices on a 4GB RAM kit for the mini. And don't forget that ordering the upgrade from Apple is easier and means the RAM is covered under Apple's warranty. (Granted, with an aftermarket upgrade, you'll end up with the original 2GB of RAM to use elsewhere, but with all current Macs shipping with a minimum of 2GB of RAM, those "leftover" chips won't do you much good unless you've got some other compatible hardware sitting around.)
However, if you're planning on using the Mac mini with RAM-hungry apps, there's a new wrinkle to consider: As with the previous line, both new minis officially support 4GB of memory. However, according to macminicolo.net, 123Macmini.com, and OWC, both the previous and new Mac mini lines can actually handle up to 8GB of RAM when running the latest firmware and Snow Leopard. (Apple says such configurations are officially unsupported.) Of course, you'll have to shell out nearly $500 for such an upgrade, but it's nice to know such an upgrade is an option if the need ever arises—or as RAM inevitably gets cheaper.
Performance increases
The Mac mini line has always been about size and value, rather than performance. The early-2009 models were prime examples: while they were the first minis that were truly capable of handling the iLife suite and playing processor- and graphics-intensive games such as Call of Duty 4, they performed more like MacBooks than MacPros—or even than iMacs. So even though the late-2009 minis are all about increasing performance, you shouldn't expect to be wowed by the newest models' power.
To test these improvements, we ran our latest suite of benchmarks on both new models, as well as on the new $599 model upgraded to 4GB of RAM; the $799 early-2009 model; and the most-recent pre-2009 Mac mini, the 1.83GHz 2007 model, upgraded to 2GB of RAM (our benchmarks require 2GB). We didn't test the $599 early-2009 mini this time around, as once you upgrade it to 2GB of RAM, the only difference between it and the $799 model is the hard drive. (Note that these new tests aren't directly comparable to the ones we ran back in March, and we're still ironing out the details of our Speedmark suite, so we'll have more benchmarks going forward.)
The new Mac mini models, in their stock configurations, offer decent performance increases over the early-2009 models. While the margin of improvement varied depending on the test, comparing the overall time it took to complete the 17 time-based tests in our battery, the new $599 (2.26GHz) model took about 7 percent less time than the older $799 (2.0GHz) model, and the new $799 (2.53GHz) mini took 16 percent less time than its predecessor. Upping the new $599 to the same 4GB of RAM as the $799 model closed the gap a bit: that build-to-order configuration, which costs $699, took about 10 percent less time to complete the tasks than the previous $799 mini.
Where didn't the new Mac minis improve significantly on their immediate predecessors? The early-2009 Mac mini we tested actually bested the new 2.26GHz model—and tied the new 2.53GHz mini—in our Finder Duplicate test, which involves duplicating a 1GB folder of files. The older model also slightly outperformed the new 2.26GHz mini in our Movie Import, Finder Unzip Archive, and iPhoto Import tests. These results are likely explained by a slightly faster hard drive in the older $799 model, as these particular tests are largely dependent on hard-drive speed. The new models also showed no improvement, compared to the early-2009 model with 2GB of RAM, in our graphics-card-dependent Call of Duty test.
For those with older models considering an upgrade, a more-useful point of reference is the 1.83GHz 2007 Mac mini. Compared to this model, the late-2007 minis offer major performance boosts: The updated $599 model finished our benchmark tests in 29 percent less time, with the new $799 mini besting that older model by 36 percent.
Comparing the two new models directly, the $799 mini was 10 percent faster than the stock $599 mini in total time to complete our tests, although it was only 7.4 percent faster once we upgraded the $599 model to the same 4GB of RAM. Indeed, for some tasks, such as the Open Word Document in Pages test, the difference between the two new minis was significantly reduced by upping the RAM on the lower-end model.
Finally, comparing the new Mac minis to other current "consumer" Macs provides some additional perspective on performance. The new white Unibody MacBook ( ) was slightly faster than the $599 mini at completing our battery of tests, while the least-expensive new iMac was 28 percent faster than the new $599 mini and 20 percent faster than the $799 model.
New Mac minis (Late 2009)
| | Adobe Photoshop CS4 | Cinebench | Mathematica- Mark 7 | Compressor 3.0.4 | Aperture 2.1.4 | iMovie '09 | iMovie '09 | iTunes 9 | Call of Duty 4 | Finder | Finder | Finder | Parallels | Handbrake | iPhoto '09 | Pages '09 | Complete 17 Tests |
| --- | --- | --- | --- | --- | --- | --- | --- | --- | --- | --- | --- | --- | --- | --- | --- | --- | --- |
| | SUITE | RENDER | TEST | MPEG ENCODE | IMPORT | IMPORT ARCHIVE | EXPORT | MP3 ENCODE | FRAME RATE | DUPLICATE 1GB FOLDER | ZIP ARCHIVE | UNZIP ARCHIVE | WORLDBENCH 6 MULTI-TASK TEST | RIP DVD CHAPTER | IMPORT | OPEN WORD DOCUMENT | ALL TIMED TESTS |
| Mac mini 2.53GHz 4GB | 0:50 | 2:44 | 3.57 | 10:14 | 3:28 | 1:49 | 2:08 | 1:34 | 18.3 | 0:39 | 3:56 | 1:01 | 6:31 | 2:43 | 0:47 | 1:54 | 39:28 |
| Mac mini 2.26GHz 2GB | 0:55 | 3:05 | 3.2 | 10:55 | 3:55 | 2:08 | 2:17 | 1:43 | 18.3 | 0:45 | 4:34 | 1:28 | 7:14 | 2:49 | 1:05 | 2:28 | 43:58 |
| Mac mini 2.26GHz 4GB | 0:53 | 3:03 | 3.33 | 10:48 | 3:26 | 1:59 | 2:11 | 1:44 | 18.4 | 0:45 | 4:28 | 1:32 | 7:18 | 2:53 | 0:57 | 2:05 | 42:36 |
| Mac mini 2.GHz 2GB (Early 2009) | 0:59 | 3:29 | 2.98 | 12:01 | 4:08 | 2:07 | 2:33 | 1:53 | 18.4 | 0:39 | 4:50 | 1:19 | 8:12 | 3:08 | 1:03 | 2:36 | 47:10 |
| Mac mini 1.83.GHz 2GB (Mid 2007) | 1:12 | 4:01 | 2.49 | 15:22 | 6:26 | 5:06 | 3:14 | 2:14 | n/a | 1:22 | 6:10 | 3:32 | 8:10 | 3:18 | 1:37 | 3:03 | 61:36 |
Best results in bold. For Call of Duty 4 and MathematicaMark 7, higher scores are better. All other tests are timed results where lower times are better. Reference systems in italics.
Which to get?
In my review of the early-2009 models, I noted that when deciding between the $599 and $799 models, the choice was easy: Despite the $599 Mac mini's paltry 1GB of RAM and small hard drive, the $200 premium you paid for the higher-end model got you only a $50 RAM upgrade and a larger—but still slow—hard drive. You could get much more value for your money by buying the lower-end model with Apple's RAM upgrade, and using the $150 you had left over to get a huge, fast, FireWire 800 drive.
With the new Mac mini models, the choice is a bit more difficult. Unlike its predecessor, the new $599 model no longer requires a RAM upgrade out of the box, and it also gains a faster processor and a bit more hard-drive space. But this time around the higher-end model's $200 premium gets you a larger hard drive, 4GB of RAM, and an even faster processor—upgrades that, if added to the $599 model when purchasing from Apple, would cost $350 in total (or around $325 if you upgraded just the processor through Apple but purchased and installed the other upgrades yourself). Buying the $799 model is also the only way to take advantage of Apple's fastest Mac mini processor—you can't upgrade the $599 mini to a 2.66GHz CPU.
What this means is that if you want the very best performance in a Mac mini, you'll want to go with the $799 model with its faster processor and maxed-out RAM. Otherwise, the $599 model continues to offer a better value. In fact, based on our tests of an upgraded early-2009 mini back in March, I suspect that upgrading the hard drive on the new $599 mini—either via a 7200rpm internal drive or an external FireWire 800 drive—would again make it compete well with the $799 model, perhaps even surpassing its more-expensive sibling for drive-intensive tasks.
Macworld's buying advice
According to Apple, the mini line was designed to be the most affordable way to get a computer with Mac OS X and iLife. While that may be true, the early-2009 Mac minis were the first that actually let you take full advantage of that software. The latest models improve modestly on their predecessors with faster processors, more RAM, and—on the lower-end model—more hard-drive space at the same $599 and $799 prices. The results are Mac minis that address a few of my biggest criticisms of the early-2009 models. (Sadly, slow hard drives remain.)
The Mac mini continues to be a great option for those new to the Mac who already have a display, keyboard, and mouse. As for current Mac owners, if you purchased a Mac mini earlier this year, these relatively minor improvements are unlikely to convince you to upgrade unless a slight bump in performance will mean big productivity gains for your particular tasks. But if you've got an older Mac mini—or an older Mac of another line—and you're looking to upgrade, the latest minis are appealing. They give you all the impressive updates of the models released earlier this year along with better performance.
As for which of the two models to consider, unless you need the very best performance in a computer the size of a mini, the $599 model is a better value, giving you most of the power of the $799 model with enough cash left over to spurge on a huge, fast, external hard drive—and maybe even a few other accessories.