For years, we've been hearing about iPod killers, iTunes wannabes, and new music services. We've seen them come and we've seen them go. My colleague Chris Breen wrote about several of them a few weeks ago. But there was one that Chris couldn't sample, because it's not yet available in the U.S.: Spotify. Created by a Swedish company, Spotify is only available in Sweden, Norway, Finland, the United Kingdom, France, and Spain—but the company is planning a U.S. roll-out in the near future. There's a Mac app, a Windows app, and an iPhone app available.
Spotify uses a proprietary peer-to-peer system in which users store music in cache folders on their computers and stream that music to others when requested. If no users have the music, Spotify feeds it from its servers, but over time, the goal is to off-load much of the traffic to users. The music is streamed in Ogg Vorbis format, at approximately 160 Kbps.
Spotify is currently available for free (with ads) in a limited, invitation-only form, and a premium service—with no ads and higher bit rates, as well as off-line listening—for €10 (and equivalent amounts in non-euro zone countries). In addition, users can purchase some music directly through the Spotify application. Ads can be annoying: there are both visual and audio ads, the former displaying at the side or bottom of the Spotify window, and the latter inserted between tracks, roughly every four tracks or so. As I'm in France, I got ads in French, all of which were simply trying to sell me on Spotify's premium service. They were especially annoying because they came in between movements of classical works, or between live tracks that segue into each other. But that's the price of free.
With about 6 million tracks currently, Spotify has a good selection, but as with all digital music services, whether you find what you want depends on your tastes. As a classical music fan, I'd love to find a service with a broad selection of classical tracks, but Spotify's classical selection is limited. It does, however, have a lot of Grateful Dead music, with pretty much the band's entire catalog of live and studio recordings. You'll also find music by Madonna, U2, Michael Jackson, Miles Davis, Brad Mehldau, Frank Sinatra, Snoop Dogg, Coldplay, Radiohead, and many more. However, as I write this, only two of the top ten songs in the iTunes Store are available.
Finding music to listen to is Spotify's weakness. There is no way to browse what's available, and searching uses somewhat complex search syntax that, while powerful, will annoy casual users. For example, fans of indie, jazz and classical music might want to see which albums specific labels have, and when you find an album, there's no way to click a link and see more from that label (as you can on, say, eMusic). There's also no composer information, enabling you to search for composers, or click through to more music from a specific composer.
Users can create playlists, and can share them with others using special links. (For example, mystery author Peter Robinson, whose main character listens to a lot of music in his novels, has some fan-created Spotify playlists on his Website).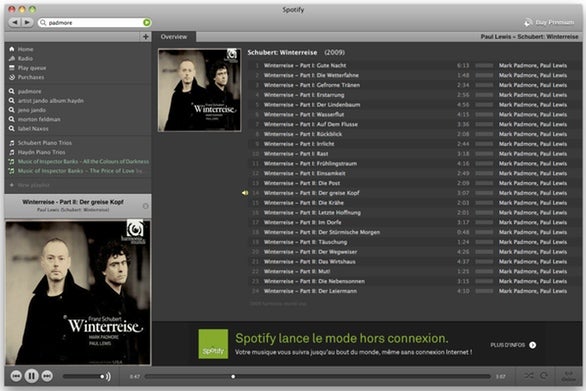 How well Spotify fares in a larger market depends on several factors. The program's ease-of-use scores pretty low, since it's hard to find music without knowing what you're looking for. You can see lists of the most popular tracks, and some What's New album graphics on the program's home screen, but after that you're pretty much on your own. Using the search syntax means manually rolling your own searches, rather than simply choose criteria from a menu (can it be that hard to code?), making searches complex. There's no power search, other than stringing together search criteria in the single search field. There's no recommendation engine, though the program does link with Last.fm, offering scrobbling. However, you need to then use Last.fm to get recommendations and click an icon to listen to them with Spotify. Finally, for Spotify to work, it needs to satisfy both record labels and musicians, and it seems that not everyone is happy.
The real weakness with Spotify—and other subscription-based services—is the inability to listen on a portable device (with the exception of an iPod touch or iPhone). You can't put music on an iPod unless you purchase it, which defeats the purpose of a subscription. While I spend a lot of time in front of my computer, what if I want to listen to music from Spotify in another location? Well, there's always Airfoil. But I wouldn't be able to control the Spotify application.
Chris Breen has long been a fan of streaming services, and I've never really had opportunities to try them out before, as most are limited to the U.S. I don't know if I can be won over by Spotify, but in spite of its weaknesses, it has promise.
Senior contributor Kirk McElhearn writes about more than just Macs on his blog Kirkville. He has also been Reading Henry James lately.