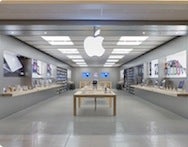 Apple Store wannabes take note: Apparently you'll need more than minimalist design and enthusiastic clerks wearing brightly-colored shirts if you want to run a successful brick-and-mortar store. In a recent Consumer Reports survey, Apple Stores finished in a tie for the top spot among walk-in electronics retailers.
Published in the magazine's December issue, the results of the poll show that, on a scale of 0 to 100, readers rated their experience at the Apple Store as a 90. The ratings were based on responses from more than 31,000 readers who bought electronics between June 2008 and June 2009. Apple shared the top honors with independent stores, Costco, and Ultimate Electronics, all of which also scored a 90. (Apple.com, on the other hand, didn't crack the buyers' list of the top 15 online electronics retailers.)
Respondents gave the Apple Store the best possible marks for product quality, customer service, and buying ease. And the high overall rating came despite the fact that readers also gave Apple failing grades for price and selection. In commentary accompanying the rankings, Consumer Reports editors note that the Apple Store "is, of course, limited to selling Apple products."
That surely comes as a shock to the manufacturers of the roughly 17 billion different iPod and iPhone accessories available at Apple's retail locations.