Chorus, a new free iPhone app from envIO Networks, aims to help you cut through the copious App Store chaff. If the thousands upon thousands of apps available are making it to tough for you decide precisely which Twitter app deserves your hard earned two bucks, Chorus may just be for you.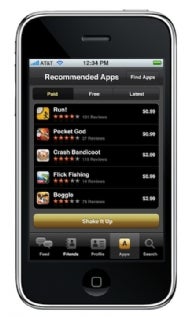 Macworld's own App Gems app recommends apps based on our own reviews and the power of our gigantic brains. Chorus takes a different approach, by leveraging the power of your social network.
You connect Chorus with your friends in various ways—Facebook Connect, your iPhone contacts, and even the Chorus Website. The app then sorts through all the software your friends use, compares it to the apps installed on your iPhone already, and generates a list of apps that are recommended just for you. The more friends you connect with, the more app recommendations you'll get.
Chorus doesn't know which apps you have installed unless you tell it, so if you don't want your recommendations skewed by iFart Mobile, they don't have to be. You can add your list of iPhone apps one at a time from within Chorus, or run the "Content Gobbler" on your computer to suck in all the apps you've downloaded (including the fart-centric ones).
An "AppMavens" feature will automatically connect you to selected, trusted iPhone app reviewers from what envIO calls "leading review sites," but which reviewers that might be isn't yet clear. I have at least one recommendation.