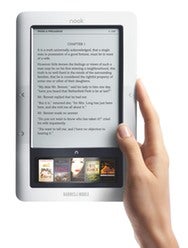 The $259 Barnes & Noble Nook is certainly a worthy contender in the up-and-coming e-book reader market. The dual-screen Android device with the funny name was announced last month to rave reception; it seemed everyone couldn't wait to get their hands on one.
But not all is well in the land of Nooks and crannies. Cupertino-based Spring Design has filed a lawsuit against Barnes & Noble over the use of its Alex e-book intellectual property. It seems that Spring Design had been working on the very same concept since 2006, filing patents along the way, and that it even worked with Barnes & Noble since January of this year to bring Alex to the market with the book-seller as a partner.
Spring Design claimed that the two companies had meetings and other communications, reaching all the way to the executive level, on the subject of the product and collaboration. The release of the Nook apparently caught Spring Design off guard, as they had announced Alex the day before Barnes & Noble announced the Nook. Although, it's also entirely possible that the announcement was rushed because the company caught wind of the Nook's impending release.
Eric Kmiec, Spring Design Vice President of Sales and Marketing, said in the press release, "Spring Design unfortunately had to take the appropriate action to protect its intellectual property rights. We showed the Alex e-book design to Barnes & Noble in good faith with the intention of working together to provide a superior dual screen e-book to the market."
At the moment it is unclear what this lawsuit will mean to the Nook, but Kmiec said, "It is our desire to resolve this matter so that we can move forward together to expand and grow this e-book market with enriched user experience, bringing readers to a new level of reading enjoyment." Barnes & Noble had not yet responded to the allegations as of this writing.
[via Michael Gartenberg]