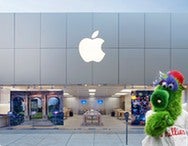 It is a pretty good time to be a Philadelphian. The Phillies are in the World Series, the city managed to avoid shutting down all the libraries (woo! reading!) and it looks like an Apple Store is set to open in downtown Philadelphia (that's Center City, to those in the know) at some point in the not too distant future.
The Metro reports that on Wednesday, Apple will be presenting design plans for a proposed store at 1607 Walnut Street to the city Art Commission. An Apple Store will be a marked improvement for 1607 Walnut, especially since it is an empty storefront at the moment (flanked by an American Apparel and a hair salon called Bubbles Salon). This store would be the seventh Apple Store in Pennsylvania.
Considering Apple's trend of opening stores in upscale areas, Walnut Street fits the bill nicely. It is mere blocks away from Rittenhouse Square (one of Philadelphia's toniest area) and within a six block radius of my apartment (though I imagine that was but a minor consideration for Apple).
However, while the store might be amongst fellow upscale retailers like Tiffany & Co. and Burberry it would also serve as competition for a couple of local independent Apple shops. Springboard Media and Bundy are both long-lived, small, local shops that sell and service Apple products. I imagine that if an Apple Store were to open so close to either they would start to put more emphasis on their repair services, which are more robust than those that Apple offers in their retail spaces.
Check out the Metro story for a rendering of what the Apple Store on Walnut Street might look like (spoiler alert: it looks like an Apple Store).
Update: A little birdy pointed me towards Apple's job Website ( http://jobs.apple.com for all you hopefuls out that) which lists a number of "future openings" available at an Apple Store described as "Philadelphia- Walnut St." Looks like this report is spot on.
[via Technically Philly]