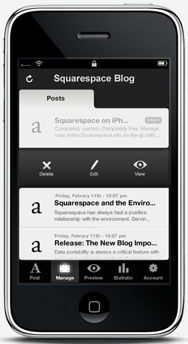 Squarespace is a hosted blog and Website service that, like Apple, prefers to think different. It offers a lot of drag-and-drop freedom for laying out a site, and now its iPhone app lets users cut their computer umbilical cord and manage a site on the go.
The new app, cunningly titled Squarespace, currently focuses on blog-related features, even though the company essentially offers a full-blown Web content management system (CMS). Squarespace applied its trademark style to the iPhone OS environment, offering a slick UI for managing blog posts and drafts, adding multiple photos to a post, and viewing statistics for both Website visitors and RSS subscribers. Users can also manage multiple Squarespace accounts and compose posts offline, then publish once connectivity is restored.
A beta version of Squarespace's app was somehow released "accidentally" a little while ago, only to be pulled so the company could put on the finishing touches and get back in line for everyone's favorite App Store approval process.
Squarespace offers its iPhone app for free, though considering that it's a paid service (plans start at $8/month, depending on features), it may need to charge some kind of fee in order to ward off the ever-present single-star reviewers who don't believe in paying developers for their work.