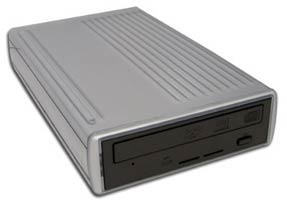 Since Apple has yet to release an internal Blu-ray option for its Macs, Mac users who want Blu-ray have to turn to an external drive—and there are no solid signs of a Blu-ray option from Apple coming anytime soon. Fortunately, OWC expanded your external Blu-ray choices on Tuesday by releasing its new Mercury Pro 12x Blu-ray burner.
The new Mercury Pro 12X Blu-ray burner features a quad interface, meaning it has support for FireWire 800 (a pair of ports), FireWire 400 (one port), USB 2.0 (one port), and eSATA (one port). OWC also includes cables for each connection.
OWC's new external Blu-ray burner uses a Pioneer BDR-205, and supports writing to single- or dual-layer BD-R media at 12X speed. Writing to BD-RE media is done at 2X speed, while writing to DVD±R is at 16X, DVD±R DL is at 8X, and CD-R is at 40X.
The Mercury Pro 12X Blu-ray burner is available in a bundle with Roxio Toast 10 Titanium Pro for $450, though OWC states on the Mercury Pro 12X Blu-ray product Web page that DVD±R burning with Toast 10 Titanium is not supported. In our recent round of Blu-ray drive testing, which included OWC's Mercury Pro 8X Blu-ray External ( ) and LaCie's d2 Blu-ray Professional BD-R, BD-RE Drive ( ), we had problems with those two burners when using USB and Toast. We also had problems using Toast over eSATA on MCE's 8X Blu-ray Disc External Recordable Drive ( ).
OWC also sells the 12X Blu-ray burner without Toast for $350. Both the $450 package and the $350 drive include two 25GB BD-R discs and a one-year warranty.
[Editor's note: Updated 11/3/2009 at 2:20PM PT with information about DVD±R burning with Toast 10 Titanium.]