Your iWeb site and Facebook profile represent you and your interests to the world. Wouldn't it be great if they worked together? Fortunately, it's easy to go beyond the basic Facebook integration in the latest version of iWeb ( ) to boost your site's visibility to friends, family, and associates. Here's how.
Create Facebook badges for iWeb
Badges are widgets that automatically refresh to add Facebook information to your Web site. To get started, open your Facebook Profile and click the "Create a Profile Badge" link beneath the left-hand column (you may have to scroll down to the bottom to see this).
Click the edit screen's checkboxes to customize the badge's layout and content (which can include your picture, status, contact information, and more). After you save the badge, you can create and save additional Profile badge designs, as well as Photo badges that display pictures you've uploaded to Facebook. To export your badge to iWeb, select Other as its destination and copy the resulting code.
Next, open your site in iWeb and select the Media Browser's Widgets button. Drag the HTML Snippet widget into the page you want it to appear on, paste in the code, click Apply, and close the box. Then upload the revised page.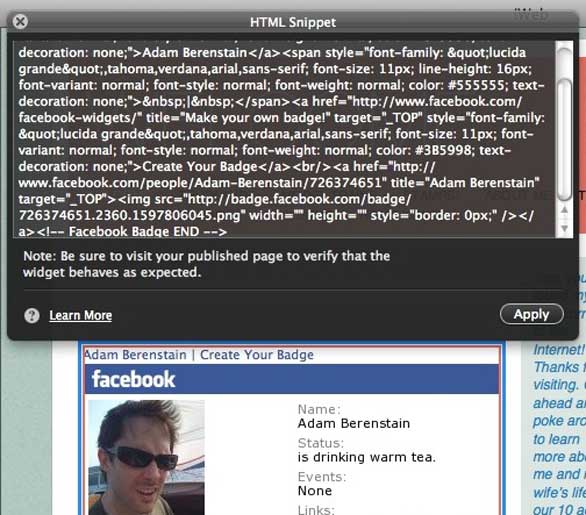 Now when your information is updated on Facebook, it will update in your badges, and give visitors a direct link to your Facebook profile.
This can get quirky. Sometimes, the code snippet that Facebook generates contains content you may not want. In this case, the code contains the user name and type that says "Create your badge" at the top. If you don't want that information to appear with your badge, you can remove it.
To fine-tune the badge's appearance, you can edit its code directly, as shown above. In iWeb, click the widget on your page to expose the code, remove the part you want to get rid of, apply, save, and re-upload the page. If you make a mistake, it's easy to start all over again. If you want to, you can save the original code in a sticky note for safekeeping.
Add iWeb's RSS feeds to Facebook
RSS (Really Simple Syndication) feeds let visitors subscribe to updates from your iWeb site's photo, movie, and blog pages. RSS can also bring links to this content to your Facebook profile.
You can find many dedicated RSS applications on Facebook (such as Social RSS) that can show multiple feeds simultaneously or offer sophisticated display and subscription options. However, if you keep just one blog, Facebook's own Notes application is a simple alternative.
First, open your blog in a browser and copy its URL, then log in to Facebook. At the bottom left corner of the screen, click Applications and select Notes (you may have to click the More button for Notes to be visible). Your Notes Settings are on the right of the resulting page.
Click the "Import a blog" link and paste your blog's address in the Web URL field. Facebook finds your blog's RSS feed and presents a preview for you to confirm. New blog posts will now appear automatically in Notes and on your Wall, complete with images and links back to your iWeb site. There may be a delay between the time you post an update and its appearance on Facebook. Note that if you add photos to your post, only the main photograph will appear in Notes. Embedded videos and additional photos won't. However, since each post links back to your original iWeb blog, this content is only a click away for your readers.
[Adam Berenstain is a freelance writer based in upstate New York.]