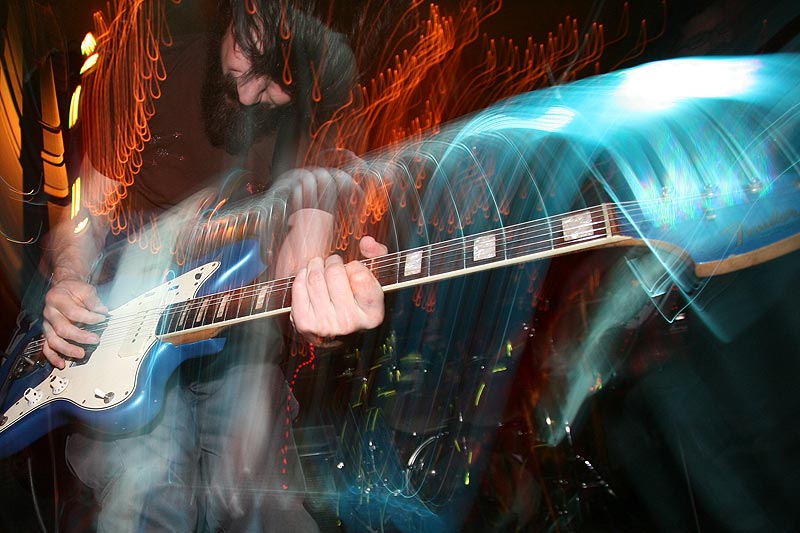 Music photography is about conveying the feeling of being at a live show, and when a band is energetic and moving around on stage, that can require more than just freezing the moment with a bright flash and fast shutter. This shot of the band Goes Cube was taken at Magnetic Fields in Brooklyn. I used a Canon Rebel XTi, a Canon 450 EX flash, and an EF-S 10-22 mm lens. The ISO was set to 400, the aperture was at f/3.5, and I had a 1/2 second exposure time.
The streaking light effect was caused by a combination of four elements: the camera-mounted flash, the movement of the camera, the subject's movement, and the lighting in the background. I set my flash to second curtain sync flash (also called slow sync, or on a point-and-shoot it's sometimes called the "night portrait" mode) and started the exposure as the musician began to move closer to the camera. The first flash fired and the initial light streaks were created, with the second flash firing just at the point where his guitar was closest to the camera.
I moved the camera in sync with his movement, keeping it at about an equal distance from him throughout the exposure. This way, the lines created by reflections from the flash on the metal of his guitar, as well as the lights on the stage behind him, created a consistent feeling of movement. The longer the exposure with 2nd curtain sync, the longer and more interesting your lines will be. The best way to find the right balance is to experiment with your settings in each situation. You can usually set your flash to a lower power than normal (by 1/3 or 2/3), and play with the manual settings on your camera.
In order to accentuate the bend of the guitar and the musician's body, I placed them in the upper right corner of the frame where the distortion of the wide angle lens bent them in even further. Finally, I cropped the image to about 3/4 of the full frame, the rest of which was black and didn't add to the overall image.
[Bryan Bruchman is a Portland, Maine based photographer ( bryanbruchman.com) and music blogger ( hillytown.com)]
Want to submit your own photo to our Snapshot series? Send the photo (or a link to the photo) and a description of how you got the shot to digitalphoto@macworld.com. Include the text "Snapshot" in the subject line. We'll pick our favorites and feature them on our Website. Chosen photographers will receive a free printed copy of our Digital Photography Superguide.