Audio vendor Klipsch on Tuesday announced the new ProMedia 2.1 Wireless iPod/Computer Speaker, a wireless version of the company's venerable ProMedia 2.1 speaker system.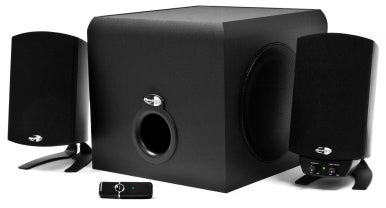 Comprising a subwoofer/amplifier unit and left and right satellites, the ProMedia 2.1 Wireless offers similar THX-certified audio quality as the original ProMedia 2.1, but without cables physically connecting your computer and the speaker system. The ProMedia 2.1 Wireless connects to your computer via a USB dongle that transmits audio, wirelessly, to a receiver in the system's subwoofer/amplifier unit. (The satellite speakers are connected to the sub/amp unit via standard speaker cables.) Aimed specifically at laptop users, this design allows you to move around a room, or several rooms, without interrupting audio playback. Klipsch claims the ProMedia 2.1 Wireless's range is approximately 30 unobstructed feet.
The $199 ProMedia 2.1 Wireless is available now directly from the Klipsch.com Web site.