We've known it was coming for a while now, but the milestone has finally been passed: Apple announced on Wednesday that the App Store now boasts more than 100,000 applications available for download. And download the people have, more than two billion times in 77 countries.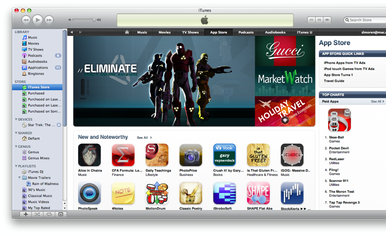 As you might expect, Phil Schiller weighed in on the announcement, calling the App Store "a major differentiator" for iPhone and iPod touch customers, of which there are more than 50 million. (Schiller didn't comment on rumors that he had also asked his staff to address him as "Major Differentiator.")
Apple's App Store has seen tremendous growth, having only been open for business for just over a year and a quarter. The store hit one billion downloads about six months ago, at which point it had more than 35,000 applications. In September, when it hit two billion downloads, Apple said the store then boasted 85,000 applications.
Meanwhile, competitors have been trying to make up ground in the burgeoning app market, but the nearest competitor is likely the Android platform, which has around 10,000 applications, according to details surrounding last week's announcement of the forthcoming Motorola Droid.
That margin seems almost unbeatable, though with it comes the question of whether or not quantity always triumphs over quality. Apple also says that it has been improving the process of finding and discovering new apps with its App Store Essentials selections and by extending its Genius feature to apps.