At a Glance
Expert's Rating
Pros
Headphone jack
Well-designed remote
Cons
Confusing menus
No first-run wizard
Mediocre image quality
Our Verdict
Insignia NS-LCD52HD-09 has an attractive price for a 52-inch HDTV. And though its image quality isn't great, it's not horrible, either. The NS-LCD52HD-09 has only middling sound quality, too, but again it's about what you would expect for the comparatively low price.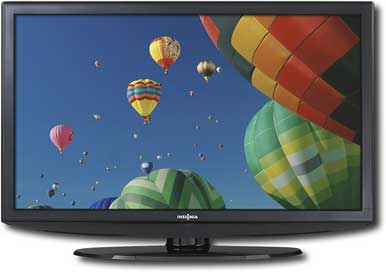 Setup for this HDTV is more difficult than it should be. The first time you turn this TV on, you won't see a first-time setup menu. Instead you have to figure out the setup yourself—and since it never asks you where you'll be using the TV, you're likely to leave it configured at its default, which is designed to look good in a store, not in your living room. The main menu is tiny, hard to read, and annoyingly situated right in the middle of the screen. It offers no on-screen explanations for its various options.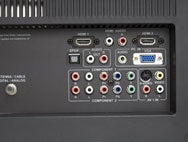 In our image quality tests, close ups of faces looked fake, lacking the textures and subtle shades of real human skin. In other tests, both people and scenery appeared pale, but the NS-LCD52HD-09 handled movement well. In a panning sequence from Mission Impossible III, the HDTV displayed a highly detailed brick wall with a steadiness some pricier TVs can't match. One judge noticed some oversaturation in a 720p American Idol clip. Yet another spotted pixelation around the cars in wide shot from a NASCAR clip, indicating problems with fast movement in long shots.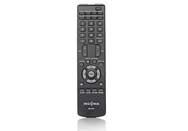 With the volume at 53 percent (100 percent was too loud for my health), a scene from The Phantom of the Opera where quiet dialogue gives way to a loud organ blast produced something like its intended shock effect, though I did detect a slight muddiness when the music got loud. But the simulated surround was drab to the point of being practically unnoticeable. Of course, if you're serious about sound, you'll need to obtain a separate sound system.
The NS-LCD52HD-09 includes a headphone jack for when you want to watch TV without disturbing others.
Insignia NS-LCD52HD-09
| | |
| --- | --- |
| Performance | Good |
| Features | Good |
| Design | Good |
Scale = Superior, Very Good, Good, Fair, Poor
Though the NS-LCD52HD-09 is unexceptional overall, it does have an expertly designed remote control. With your forefinger resting in the back grove, your thumb goes easily to the Volume and Channel buttons. Overall, the buttons that you're likely to use most frequently are easy to find and to press. The remote is even programmable. If it were backlit, it would be perfect.
Macworld's buying advice
If you're on a tight budget but want a larger-than-50-inch TV, consider the Insignia NS-LCD52HD-09. But keep in mind that you can get a better set for a few hundred dollars more.
[ Lincoln Spector is a contributing editor for PC World.]