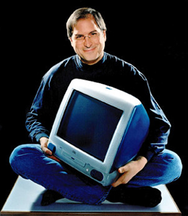 Were it not for Ken Segall, you might be going to the Apple Store to buy the new 27-inch FlatMac, the latest in a line of Apple consumer desktops that started with the iconic Apple Gumdrop and continued on to the System 9 Desk Lamp. Instead, Segall's team convinced a reluctant Steve Jobs to go with the name "iMac," despite his initial resistance.
That's the story which emerges from an interview with Segall, a former TBWAChiatDay executive, by Leander Kahney at Cult of Mac. TBWAChiatDay was also responsible for the "Think Different" campaign, which it apparently embraced itself with the ungrammatical use of backslashes in its business name. (It's the right punctuation. Google them if you don't believe it. I didn't.)
According to Segall's reminiscences, Jobs unveiled the first Bondi Blue iMac for the TBWA team and asked them to come up with a name on very short notice: the boxes had to be printed within a week. Jobs had a name himself, which Segall calls "blood curdling" and then uncharitably refuses to share. (Just speculating here: MacUdder? Big Blue Mac? I Can't Believe It's Not Got a Floppy Drive?) Jobs rejected the name "iMac" at first, but changed his mind after he liked the way it looked when engraved on the side of the unnamed computer.
Moral of the story: next time you're in a product meeting with Steve, make sure you bring your industrial-strength laser pointer to burn your suggestions directly into the prototype. That'll win him over, every time.