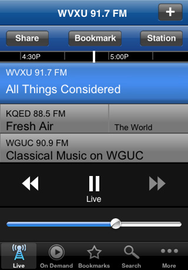 National Public Radio addicts with iPhones or iPod Touches have yet another way of listening to their favorite stations, with the release of Radio Bookmark's Public Radio App. This $3 application adds several features not available in the previously reviewed Public Radio Player from American Public Media, a producer of many shows in the NPR lineup.
The new Public Radio App—and could these names be any more confusing?—offers DVR-style controls to your public radio stream. You can pause or rewind a live stream, which will come in very handy for people who listen to shows which may be longer than their drive time. A bookmark feature allows you to make a note of what you're listening to, so you can listen to it again later or share it with someone else. An onscreen program guide lets you compare the current programming from multiple NPR stations, and tap over to whichever program strikes your fancy—or you can pull up a list of on-demand programming to catch up on your favorite shows.
Initial comments in the iTunes store are mixed: several people report that the app isn't particularly stable, and doesn't include the complete list of stations available in the competing (and free) Public Radio Player. If neither application strikes your fancy, check out the apparently canonical list of NPR iPhone apps maintained by the Public Radio Player folks.