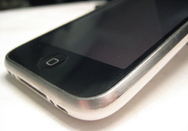 If the chrome bezel surrounding the screen of your iPhone has gotten scratched thanks to the daily use and abuse of your favorite gadget, Just Another iPhone Blog checks in with a fix: use the green abrasive scrubbing pad of a standard two-surface sponge to smooth out the scratches. Lifehacker links to a YouTube video to show you exactly how it's done.
Just be sure not to skip step one: covering the front and back sides with masking tape to make sure that the scrubbing surface doesn't come in contact with currently unscratched portions of your display or the case backing. I'll add a paranoid note: apply the tape only to a small portion of the screen first, to make sure that you're not using a superglue variant which will itself damage the bits it's applied to. And, as Just Another iPhone Blog warns, think carefully before you do this procedure: should you have to take your phone in for warranty repair, you never know how Apple might react.
Personally, I'd rather put up with a few scratches rather than take a Brillo pad to my electronics—my gizmos and laptops all get that "lived in" look very quickly—but to each his own.
[via Lifehacker]