AudioBoo by Best Before Media is a quick and easy way to share audio recordings on the Internet. The app is free, and you don't even need to create an account to use it. However, you'll want to create a free account at AudioBoo to make the most out of the AudioBoo features.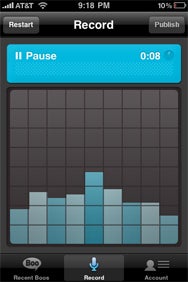 Compatible with any iPhone or second-generation iPod touch, the app features three buttons along the bottom of the screen: Recent Boos, Record, and Account. Head to the Record screen to begin your recording, hit start, and off you go. You've got three minutes to record your audio and a timer lets you know how much time has elapsed. Hit pause to review your recording, and then you can then resume recording or stop to add a short description, attach a photo, assign tags, and finally, publish your "boo."
To get the word out that you've uploaded a new boo, you'll want to link your account to social networking sites such as Twitter, Facebook, Posterous, FriendFeed, and Tumblr.
Once you've done that, anytime you publish a new boo, those following you on these sites will get a link to hear the recording, something along the lines of: "AudioBoo: Reviewing Audioboo https://boo.fm/b59438." By following that link, your followers and friends can listen to your audio recording, view the photo you've attached to it, and see a map if you've enabled geo-tagging.
Unfortunately, while AudioBoo excels at creating the boos, browsing available boos—including your own—is pretty limited. The Recent Boos screen allows you to scroll through a handful of recently uploaded boos, but there is no way to search on tags, hear boos in your vicinity, or lookup accounts. You've also got no way to browse your own boos and edit them. You'll have to visit AudioBoo's Website to do these tasks. Hopefully, as the app matures, more and more features will be added.
AudioBoo shows a lot of potential. The app's features are beautifully designed with colorful, informative displays. Recording and publishing is a snap and the integration with other social networking sites extends its reach tremendously. You certainly can't beat the price, but I was still left wanting more robust in-app browsing of published boos.
[James Savage is the host of the RetroMacCast a weekly podcast devoted to older Macintosh computers.]