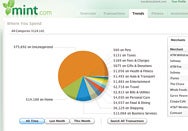 When financial software maker Intuit acquired Mint.com, there was quite a bit of uncertainty as to what would happen to the popular online financial service. More often than not, when a startup is acquired by a large, established company, the startup is given just enough rope to hang themselves.
Fortunately, Intuit appears to see plenty of value in Mint.com. Mere days after the Mint.com acquisition was completed, Intuit has announced plans to phase out Quicken Online in six to nine months in favor of its new Web service.
The catalyst for this decision was the user base for Quicken Online and how it compared to Mint.com's. While Quicken Online has 1.5 million registered users—slightly less than Mint.com's 1.7 million—Quicken has only 100,000 individual users logging on each month. Mint.com has nearly seven times that.
As part of the acquisition deal, Intuit has put Mint.com CEO Aaron Patzer in charge of Intuit's own desktop software and online services. Patzer has already announced plans to give Mint.com the ability to enter cash transactions and uncleared checks, two features of Quicken Online that Mint.com lacked.
Beyond online services, Patzer's thinking of new ways to access Mint.com services on the desktop—good news, perhaps, for the long-awaited Quicken for Mac update? iPhone users already enjoy the convenience of the Mint.com iPhone app, but Patzer is looking into using an offline storage solution for Mint.com in the form of a rich Internet application (RIA) runtime like Google Gears, Adobe AIR, or Microsoft Silverlight. Ideally, this will allow Mint.com users to easily move their recorded information into other areas, like financial planning or taxes. That will conveniently help save time and aid Intuit in their quest to take over the financial-deciding universe.