What started out as a tabletop game played in the basements of fantasy lovers has evolved into a rich mythos and a series of best-selling video games. The Warhammer universe is a mixture of epic fantasy and black humor that has gained an international following that spans magazines, games, and now, a highly anticipated massive multiplayer online role-playing game (MMORPG). Fans of greenskins and longbeards, rejoice! Warhammer Online: Age of Reckoning is available for the Mac.
Josh Drescher and Jeff Skalski of Mythic Entertainment have been with the Warhammer Online project since May of 2005. The producers are deeply involved with the ever-evolving title, with Skalski heading the project. Skalski and Drescher sat down with Macworld and discussed their vision of the game, its future, and why their tutorials don't involve any peaceful meadows to frolic around in.
What has changed for the Mac version? The answer: not a whole lot. "We wanted to make sure this wasn't a second-class game," explains Drescher. Though the PC version launched over a year ago, a Mac version has always been in the works: "We wanted to bring this to the Mac platform." Through their collaboration with Electronic Arts (Warhammer Online's publisher) and TransGaming, they've been working on this project for a while. Drescher says that they wanted the Mac version to be released as close to the initial launch as possible.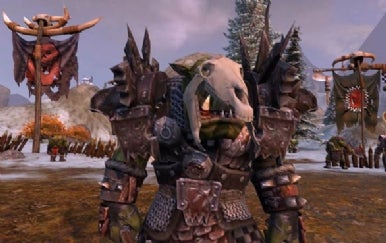 Drescher and Skalski explained that even though Mac users rarely are thought of as gamers, Mac users are just as passionate about gaming. Though it's the first time they've developed a title for the Mac platform, "We've been looking forward to launching on the Mac," explains Drescher. The game itself was ported via TransGaming's Cider Portability Engine. According to the Cider Website, the engine acts as a "wrapper" around the game software, enabling it to run seamlessly on Intel-based Macs. Mac users will be playing against and with their PC counterparts on shared servers.
To make the game more approachable to new users, players can download the game for free and enjoy the first 25 percent of the game as an "endless trial." In effect, you can play Warhammer Online for free as long as you want, with the only limitation being access to the more advanced levels of the game. "We wanted to make it a welcoming experience," explains Drescher.
That said, Skalski was quick to point out the mantra for the game, "War is everywhere." When you first begin the game, if you're an agent of Chaos, you'll first start out by trying to burn down a village. If you're an agent of the Empire and its allies, you're trying to protect a village. "There isn't a safe place for playing with drums and poking wood nymphs in the eye," muses Drescher, chiding some of the more peaceful fantasy MMORPGs on the market. While most MMORPGs will lead you into the more intense aspects of the game slowly, Warhammer Online offers no hand-holding. "We wanted to make sure when you started game, you were in the middle of combat. From start to end game," adds Skalski.
Those who are familiar with the Warhammer brand will recognize the ideal is carried over from the original tabletop game produced by Games Workshop. The developers wanted to "do justice" to the unique mythos of the game, and even had Paul Barnett, a leading figure in the tabletop game's creative direction, involved in the project as the Senior Creative Director.
While at first glance many will mistake Warhammer Online for being a crude World of Warcraft knockoff, the truth is quite the opposite. Warhammer's universe predates Warcraft by over a decade and the inspiration and game mechanics of Warhammer Online resemble not WoW, but Dark Age of Camelot.
This begins with the different combat focus. "Realm vs Realm" combat is "not just one player versus one player. It's hundreds versus hundreds," explains Drescher. What they had in mind as a visual inspiration was some of the climactic battle scenes from Braveheart; they wanted players to experience being part of two huge armies running at each other, swords drawn.
When playing Warhammer Online, the player is slowly introduced to elements of Realm vs Realm combat. They'll be introduced to keep sieges, then more advanced elements as they gain experience and progress. Finally, once the player reaches tier four, they'll be able to help capture keeps and keep them for their guild. The game transforms into a more intensely scaled battle for land territory. Skalski is especially proud of the players abilities to capture land and push deep into enemy territory, a feature that adds a distinct flavor and a real sense of weight to the gameplay.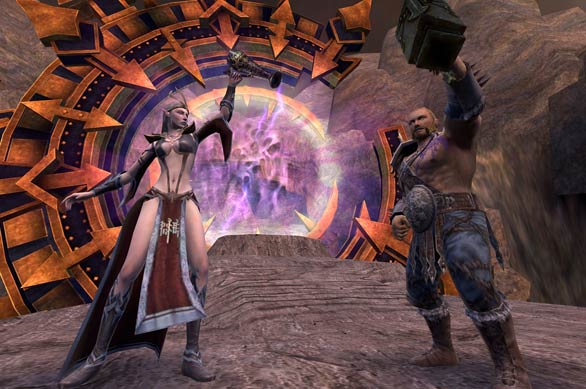 Players won't just be going into the same artificial arena every battle and trying to kill each other haphazardly. It was extremely important to the developers of Warhammer to not have a "run of the mill" battle system. "We didn't want to just play capture the flag around the same windmill forever," explains Skalski.
Aside from the combat system, the character classes are organized differently than other MMORPGs. Currently, the game features three pairings, or six different races; High Elves, Empire (humans), and Dwarves make up the forces of Good or "Order" while Dark Elves, Chaos, and Greenskins (goblins and orcs) make up the forces of Evil or "Disorder." There are four tiers of experience, and the sides are divided evenly between Empire and Chaos. Once you get past Tier 1, the world is open to you.
There's a clean divide between good and evil, chaos and order. Aesthetically, the artists wanted to capture that divide. While "Dwarves have a deep hatred for anyone who encroaching on their sacred land," Greenskins (a.k.a. Goblins and Orcs) are more like "soccer hooligans" Skalski explains. The Empire is Germanic in its influences, while Chaos represents the worst parts of humanity. Think of them as "lawyers with tentacle arms." The High Elves are "posh, over the top English" types while the Dark Elves take their cues from "the front cover of a Manowar album" and seem to enjoy the "Hellraiser bondage attire" look. Skalski attributes his mirthful commentary on the characters to creative director of the project, Paul Barnett.
When prompted about the next direction of the game, both Drescher and Skalski traded barbs and theories, but wouldn't reveal much. They both cited continued interest in listening to the community to see where to take the game, but despite fan wishes, have yet to reveal any new races to be added to the game's rosters. The rich mythos of the Warhammer universe ensures that there will always be flushed out new races and characters to bring into the conflict. But for those wanting to see Skaven, Lizardmen, Chaos Dwarf and Wood Elf armies in the future, you'll just have to wait and see.
Warhammer Online is available online for download. Look for our full review next week.
[Chris Holt is a Macworld assistant editor.]