Just in time for the holiday shopping season, Olympus has announced the E-P2, the second generation of its Micro Four Thirds camera combining the form factor of a compact point-and-shoot with the interchangeable lenses and high-quality image sensor of an SLR.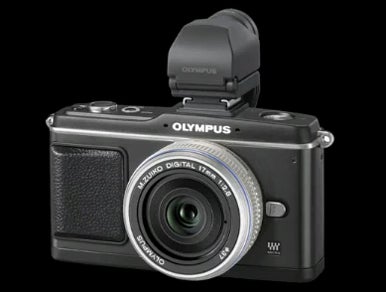 Like the E-P1 before it, the 12.3-megapixel E-P2 features in-camera image stabilization, support for HD-video, manual exposure controls, and support for Raw files. The new model adds two art filters for creative effects, full manual control of the shuttter and aperture in Movie mode, and HDMI control of the camera's playback features from a remote while the camera is attatched to an HDTV.
A new iEnhance picture mode analyzes a scene's colors and brightness to improve the photo's tones. For moving subjects, the camera's new Continuous Autofocus Tracking system continuously adjusts focus and brightness to track a subject throughout the frame.
Although offering many of the features of a traditional SLR, the E-P2 doesn't use a mirror box. This omission allows the camera to be much smaller than an SLR, but also means there's no optical viewfinder. However, the E-P2 does come with a detachable VF-2 Electronic Viewfinder, which slides into the accessory port and can tilt 90 degrees—making it easier the frame your shot at low angles.
The E-P2 comes in two bundles: with a 14-42mm f3.5/5.6 lens; or with a compact 17mm f2.8 lens. Both bundles include the new electronic viewfinder accessory and cost $1,100. The E-P2 will be available in December 2009.
Olympus also announced the development of two new lenses compatible with the Micro Four Thirds system: a super wide-angle M Zuiko Digital ED 9-18mm (18-36mm equivalent) f4-5.6 lens; and a telephoto M. Zuiko Digital ED 14-150mm (28-300mm equivalent) f4-5.6 lens. Both lenses will be available in the first half of 2010. Pricing for the lenses has not been announced.