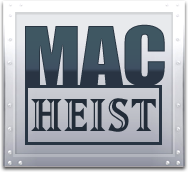 The newest MacHeist bundle is out, at the lowest price ever: free. For the cost of an email address (and not your Twitter account, this time), MacHeist is offering licenses for Hordes of Orcs, Mariner Write, ShoveBox, TinyGrab, Twitterrific, and WriteRoom. Mariner Write won't be included in the bundle until 500,000 downloads are reached—but at this price point, I'm not expecting them to fall short.
At press time, you can sign up for the bundle, but the receipt page which is supposed to give you your serial numbers isn't providing them; a graphic instead reports that it'll be a "little while longer" until they come through. (This might be server load; their home page reports over 1,000 downloads since I started writing this post.) The offer expires "in 6 days" without saying exactly when that is; by my count, get over there before November 10th or 11th to sign up.
Note: When you purchase something after clicking links in our articles, we may earn a small commission. Read our affiliate link policy for more details.