When you scan and reprint photographs, chances are you'll retain their original size or only make modest adjustments. But when you scan, or order high resolution scans, of 35mm slides and negatives, you'll need to greatly enlarge that inch-high square to create a more a useful print size. The typical scanning resolution for a slide is a large 4000 ppi. This high number is required to capture all the fine detail packed into the small original media.
When you open and attempt to print one of these digitized files, you might be shocked that the print dialog box says that you can only make a 1.343″ x 0.895″ print from your scanned photo. That's because the resolution is still at 4000 ppi, which is way beyond what you need for a print.
To correct the confusion, open the Image Size dialog box in Photoshop or Photoshop Elements, uncheck the Resample Image box, and change the resolution to 300 ppi. Then click OK. If you're using Preview, go to Tools -> Adjust Size and uncheck the box "Resample Image," then change the resolution.
Now the print dialog box will say you can make something more reasonable, such as 12″ x 18″ print from your scanned photo.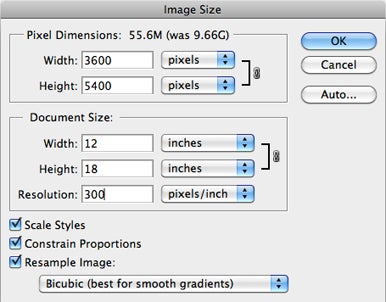 [Senior Contributor and professional photographer Derrick Story teaches iPhoto on Lynda.com and runs a virtual camera club at The Digital Story.]