As you know, Photo Booth includes a collection of image-altering effects you can use to distort your photos; just click the Effects button to see the collection of 24 effects, and to apply them to your photos. A subset of these effects (16 in all) are available in iChat, too, for use in creating some truly strange looking iChat image icons. But in case that's not enough effects for you, here's a way to add over 20 additional effects to both iChat and Photo Booth.
To use today's hint, you'll need a text editor that can handle binary plist files—Apple's own Property List Editor (included with Xcode), or BareBones' free TextWrangler, for instance. There's a bit of editing to do, but it's not hard.
To start, open two Finder windows. In the first, navigate to /System -> Library -> Compositions. In the second, navigate to your user's Library folder. If you don't see a Compositions folder there, create one, and then navigate into it.
Next, copy a number of the compositions from the first (System-level) window to the second (your user's Library -> Compositions folder). Note that there are many entries in the top-level Compositions folder, but not all will work well with iChat and Photo Booth. So how do you know which ones to copy?
Thankfully, Mac OS X Hints reader Anthony Saxon has done the hard work for you. He reports that the following effects work well:
ASCII Art, Blue Print, Blur, City Lights, Color Controls, Color Invert, Compound Eye, Concert, Crystallize, Dot Screen, Exposure Adjust, Gamma Adjust, Kaleidescope, Line Overlay, Line Screen, Monochrome, Neon, Pixellate, Pointillize, Posterize, Sharpen, Tracer, Zoom Blur
Copy as many or as few of those as you'd like over to your user's Library/Compositions folder. (If you're running 10.6, you'll see a preview of each effect in its icon, or you can use Cover Flow view to see a larger version.)
Before proceeding further, please note that some users who have tried this have reported crashes with Photo Booth or iChat after adding some new effects. I have removed the known troublesome effects from the list, but that doesn't mean there might not be more issues (particularly on Snow Leopard machines).
If the thought of some possible short-term application instability is a concern, you should probably not read any further—although I do provide instructions below on how to recover from a crash if you experience one.
Once you've copied over the files you'd like to use, you'll need to edit each one, and delete a few lines. Launch TextWrangler, and use File -> Open to open one of your copied files. These files will all look relatively similar, especially near the beginning of each file, which is the part you're interested in editing. Look for these five lines:
<key>excludedHosts</key><array><string>com.apple.PhotoBooth</string><string>com.apple.iChat</string></array>
You want to delete all five of those lines, then save the file.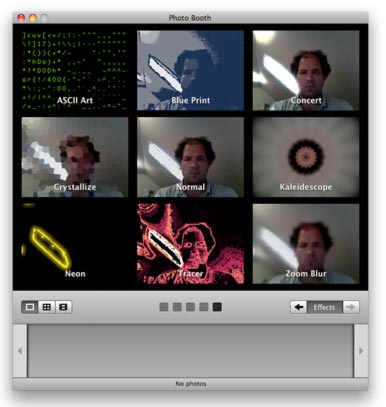 Because of the slim chance that an effect may cause a crash, I suggest testing each before editing the next (or do them in small batches). This makes recovery easier if you do experience a crash.
Once you're sure a given effect works, repeat the editing with the next file you copied across, and test again.
As you can see in the image at right, Photo Booth (and iChat) will add additional effects pages to accommodate your added effects; I've added eight effects, so Photo Booth is showing them all on one additional page.
So what happens if you have a crash after adding these effects? Say Photo Booth or iChat quit then refuse to launch, or maybe your machine kernel panics (gray and white screen appears, telling you you must reboot)?
If this happens to you, the fix is thankfully simple—just don't try to launch iChat or Photo Booth until you fix the problem. The actual fix is what you might have guessed: simply remove the added effects from your user's Library/Compositions folder, and all will be back to normal.
While crashes are never nice, I haven't experienced any after adding eight of the above effects to Photo Booth on my MacBook Pro—and my daughters love playing around with the Tracer effect, so I think these added effects will stay around for a while!