I am now on my second Magic Mouse ( Get Best Current Price), having returned the first one within days of getting it. It looks as if I will soon be returning the second one. Why? Because of two irritating symptoms.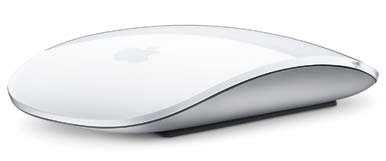 First, the mouse's tracking speed periodically drops down to a snail's pace. There are occasions when I can move the mouse across the entire width of my desk and the cursor will move less than an inch. This makes the mouse almost impossible to use at these times.
Increasing the Tracking speed in the Mouse System Preferences pane is of no help. Installing MouseZoom (as suggested in a Mac Observer article) may lead to some slight improvement, but is not a cure. The tracking surface appears to have no effect on the speed; for example, whether or not I use a mouse pad is irrelevant.
The second symptom is much worse: the mouse will occasionally drop its connection altogether. When this happens, a "Connection Lost" message briefly pops up on the display. This can occur even while the mouse is sitting idle. Typically, the mouse re-establishes a connection on its own, but there is no telling how long this will take. The lost connection may last a few seconds or several minutes. While the connection is lost, unless you have a second mouse available, there is pretty much nothing you can do to get things working again except wait.
A MacFixIt article on this subject offers several possible software-based cures, such as reinstalling the latest Magic Mouse update and/or re-pairing the device. I've tried them all. None has worked.
Perhaps you are thinking that the problem could be with the Bluetooth hardware in the Mac (a 2009 Mac Pro in my case) rather than the mouse. Doubtful. I also have a wireless Mighty Mouse ( Get Best Current Price), Apple's previous Bluetooth model. I have never had these symptoms with the older mouse. In fact, I can have both mice active at the same time. When doing this, the Mighty Mouse continues to work just fine even while the Magic Mouse drops its connection.
On the theory that I wound up with a fluke defective mouse, I returned my first one and got a second. They both have the same symptoms.
Based on feedback I have received, not all Magic Mouse owners have these symptoms. It remains possible that the symptoms are due to some interaction between the mouse and certain Mac models (such as my Mac Pro). Still, the evidence indicates an inherent problem with the Magic Mouse. Perhaps it will be fixable via an update to the mouse software. I hope so, because I don't see the mouse as amenable to hardware fixes. Until this is resolved, if you buy a Magic Mouse and have these symptoms, I recommend returning the device before your 14-day grace period expires.