For you pre-Thanksgiving shoppers, the Apple retail store on Friday announced a way to get a jump on your holiday list. The Reserve And Pick Up option will let you choose hardware products online and swing by your local store to collect them between December 15 and 24. Currently, the line-up of offerings includes iPods, iPhones, MacBooks, Mac Minis, iMacs, and Mac Pros. To make a reservation, you sign in with your Apple ID and select a store location. Payment is due only at the time of pick-up.
Other retailers have had store pick-up options for some time. Apple's program is clearly aimed at adding value to its stores' vaunted customer experience. Shoppers who make their reservations online can avoid the disappointment of finding something out-of-stock at the retail store. And in theory, the purchasing and pick-up process should be more efficient than waiting in long holiday lines. In many cases, items can be wrapped in the "signature gift box," too.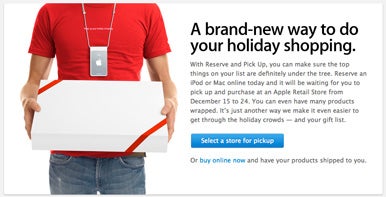 It's worth noting that Apple already offers free shipping on many hardware products purchased online, and includes gift wrapping options as well. So I wonder how many customers will prefer to reserve something online, and actually drive to the store to for pick up instead of simply ordering and waiting at home for their goodies to arrive. Apple may be counting on the fact that some shoppers will like the convenience of pick-up, and might buy a few additional accessories when they come to the store. That might be just the boost the stores need. In the most recent quarter—which was otherwise quite strong—average revenue per retail store was down a little more than 6.5 percent compared to last year.
If you do choose to reserve and pick up a shiny, gift-wrapped MacBook or iPod for your nearest and dearest this year, you can look forward to major kudos. But don't forget: the Apple store can't do everything. You've still got to, you know, add a card or something.