At a Glance
Expert's Rating
Pros
Good sound
Automatically mutes during incoming calls
Solid bass
Suits most musical styles
Cons
No bass or treble controls
IPod protective dock cover is initially difficult and fiddly to remove
Limited functionality
Our Verdict
Compatible with a wide range of iPods and the iPhone, Cygnett's Maestro is a decent sounding (if slightly unattractive) iPod speaker dock. Black and functional, the unit is basically a box on legs and is in need of a design rethink. However, if you like things unfussy and minimal, then the Cygnett Maestro will work for you. With few controls on the unit itself, the understated feel extends to a simple effective remote control.
The remote gives access to many of the iPod's controls, so you can browse tracks and select playlists without needing to get up or out of bed. Settings include menu, scroll up and down functions, volume control and the ability to repeat, shuffle and pause tracks, although sadly the Maestro omits treble and bass options should you feel the need to tweak the output.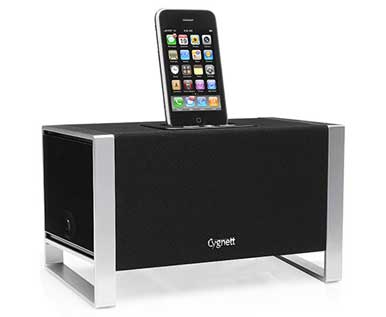 The unit includes a dedicated subwoofer and twin mid-range speakers that produces a solid neutral sound, and we found that the Maestro performed well enough with everything from pumping retro techno to some delicate acoustic foppery. While bass is particularly substantial, the mid-range does occasionally sound muddy and unfocused, with a little loss of detail. The Maestro proved pretty much distortion free when we pumped up the volume, and filled a smallish room well.
One major niggle during unboxing was the protective iPod dock cover, which requires removal before you can dock your device. The Quick Start Guide provided offers little in the way of visual clues as to what bit you're meant to take off. Removal is tricky—Cygnett suggests inserting a fingernail or blade, but do so with caution so not to damage the dock.
A good range of additional iPod connectors is included along with an auxiliary input for MP3 players and the like. Like most docks, the unit charges your iPod or iPhone when in use, and the speaker will mute if and when a call comes in. Battery operation, as well as the mains supplied, gives some room to roam.
Macworld buying advice
Average looks aside, the Maestro produces decent audio reproduction from a speaker dock that won't offend the ears, or for that matter the eyes. Sweet sounding and solid with a neat and simple remote control, it complements a wealth of musical styles well, without really ever excelling with any.
[Nick Spence is a freelance writer.]