At a Glance
Expert's Rating
Pros
Incredible Internet options
Very good picture quality
Cons
Disappointing sound
Bad overscan
Our Verdict
Sony's Bravia KDL-40W5100 produces a very good picture—one of the best we've seen. This 40-inch HDTV also provides the most complete collection of Internet-based entertainment features we've encountered in a television. Its selection of DLNA and USB options is among the best (and the most unusual) around. The audio output disappoints, however, and the Bravia KDL-40W5100 has overscan problems.
This TV performed exceptionally well in our lab's image-quality tests. No matter what we threw at it (an upconverted DVD, a baseball game at 720p, The Dark Knight's cityscapes in all of their Imax-to-Blu-ray glory) the Bravia KDL-40W5100 gave us great picture quality.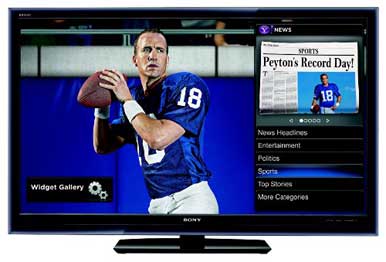 We had a few complaints, of course. I found a scene from the Phantom of the Opera DVD (in Chapter 12) a bit contrasty, with inadequate gradation between light and dark objects. We noticed some digital artifacts, making some images appear less crisp on screen. Colors occasionally seemed dull compared with the hues of some other sets we tested. One judge praised the set for its colors, which managed to be deep and fully saturated without being garish.
All of the judges spotted a serious overscan that cropped off part of the image at all four edges of the screen. This effect probably won't be noticeable in most cases, but it can occasionally be quite aggravating.
The built-in speakers are sufficient if you're watching a talk show, but not what you want for music or action movies. Even with the volume down at 60 percent, I could hear some distortion in quiet passages—and when the content was loud, I detected a lot of it. When the audio purposely gets loud, as it does in our test sample from Chapter 2 of the Phantom of the Opera Blu-ray, the speakers don't have enough dynamic range for any real effect. The virtual surround sound didn't sound much deeper than standard two-track stereo. Real surround sound, of course, requires a separate receiver, a subwoofer, and at least five well-placed satellite speakers.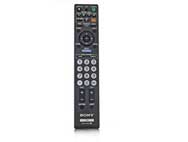 The ethernet-equipped Bravia KDL-40W5100 has the most comprehensive selection of Internet entertainment options I've yet seen in a television. Offerings include Amazon Video On Demand, Blip.TV, Bravia Internet Widgets (which are based on Yahoo Widgets and include weather, news, finance, and Twitter widgets), CBS (mostly just clips with a few full episodes), Sports Illustrated, YouTube, how-to videos, and far more options than I can list. Netflix on-demand movie streaming is promised for sometime in the fall.
Unfortunately, Sony's YouTube player has a user interface that leaves a lot to be desired. The text-entry screen (needed for searches) is just horrible; imagine sending a text message via the world's worst cell phone, which you're controlling by remote. And while I've always insisted that YouTube on an HDTV should appear in a small frame because of its low resolution, Sony puts it in too small a frame—you can barely watch it.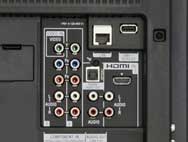 The Bravia KDL-40W5100's ethernet connection also allows it to play music, videos, and photos off of any DLNA server on your network. Slideshow options include background music and some strange transition effects. You can, for example, look at your photos in a virtual museum, with "walls" that move as you "walk" from one framed picture to the next. You can also plug a flash drive into the TV's USB port and play media off of that, using the same tools. When you play media off a USB drive, the Bravia KDL-40W5100 plays music only from MP3 files.
Among other features is TV Guide Online, which lists shows coming up in about the next 24 hours.
The Bravia KDL-40W5100 is easy to use, but not exceptionally so. A wizard helps you set it up the first time, making sure to configure the TV for a home instead of a store and scanning for channels. You control other settings in the crossbar-style menu (similar to the one found on the PlayStation 3 and other recent Sony media products). If you've never encountered this style of menu, it can take some getting used to. One crossbar problem: When you select an item you want to change, you see only one option at a time and have to scroll to see the others. On the other hand, the menu includes useful and clear explanations. Changing inputs (such as going from a TV channel to your DVD player) is simple, as the Bravia KDL-40W5100's menu system grays-out and skips inputs with nothing plugged into them.
Sony Bravia KDL-40W5100
| | |
| --- | --- |
| Performance | Very Good |
| Features | Superior |
| Design | Very Good |
Scale = Superior, Very Good, Good, Fair, Poor
Long and thin, the remote control seems designed for people who tend to change channels with the numerical keypad rather than with the channel up/down buttons. The number buttons are placed right where your thumb can easily press them, while the four-way directional pad and the volume and channel controls are difficult to reach. The remote is neither backlit nor programmable.
The Bravia KDL-40W5100 is Energy Star 3.0 compliant, but when turned off it uses a relatively high 13.5 watts, according to our lab tests. Most of the TVs we tested consume less than a watt when not in use. It consumes about 113 watts when in use, which is high for a 40-inch set; most rivals manage to use less than 105 watts.
Macworld's buying advice
In all, the Bravia KDL-40W5100 is a very good HDTV and an excellent Internet viewing device. You'll be very satisfied, unless you're picky about audio quality.
[Lincoln Spector is a contributing editor for PC World.]