At a Glance
Expert's Rating
Cons
Can't turn off illuminated logo on bezel
Images marred by digital artifacts
Our Verdict
Vizio's SV421XVT has a 42-inch screen, a 240Hz refresh rate, and multimedia playback from USB drives. But poorly rendered detail and color, plus problems with digital artifacts, mar the viewing experience.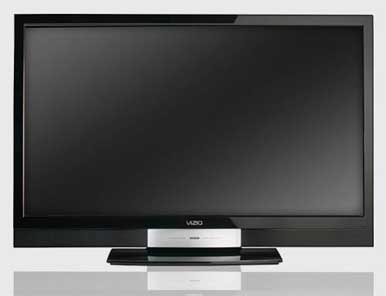 Judges in lab's image quality tests found that the SV421XVT rendered an acceptable image, but also that it had a hard time displaying fine detail and color often looked inaccurate. Depending on the clip we were watching, we found the image occasionally flat, brownish, too dark, or too orange. I also noticed a lack of detail in black clothing in a nighttime fancy-dress party scene from Chapter 11 of the Blu-ray release of The Dark Knight (a scene that three other people felt was too dark). Another judge noted that the grass in a 1080i football clip looked flat and lacked definition.
But the biggest problems came from digital artifacts—those jumping and scrambled pixels that occur when an HDTV has trouble decoding a signal. Pixelated halos surrounded running players in the 720p baseball and 1080i football clips, and a strange line of garbled distortion ran along the bottom of the screen in the baseball clip (we didn't notice this distortion in any other clips, even the other 720p one, oddly enough). A face looked pixelated in one scene from the Phantom of the Opera DVD, and another had the blotchy, unnatural texture of an oil painting in another scene from that same disc—quite likely problems with the DVD upscaling. In our Blu-ray tests, we noticed slight moiré patterns in a brick wall in Chapter 7 of Mission: Impossible 3, and in a coat's weave in Chapter 9 of The Dark Knight.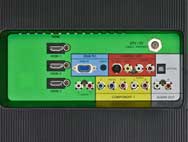 The SV421XVT did very well in our lab's panning tests specifically designed to test fast refresh rates. It passed our horizontal pan test, which is hardly surprising since it's a 240Hz LCD set, and received high marks in our diagonal pan test, a true torture test designed to push HDTVs to their limit. Yet the brick wall and coat weave problems noted above suggest that there are real-world images it can't quite handle.
There is one visual problem that Vizio could fix with ease if it wanted to: An illuminated Vizio logo right below the center of the screen that glows all the time, whether the TV is on or off (it's dimmer when "off"), and serves only as a needless distraction. This has become a common "feature" in the latest HDTVs, but Vizio is the only company that doesn't provide a way for you to turn off this annoying self-advertisement. I recommend covering it.
An always-on light wastes power 24/7, but in Vizio's defense, it doesn't appear to waste much. According to our lab's tests, the Energy Star 3.0-compliant SV421XVT burns only a tenth of a watt when off, which is among the lowest levels of the TVs we tested. In use, it burns a reasonable 104 watts at our lab's standardized configuration).
The audio isn't as powerful as it should be; I could listen to the SV421XVT comfortably even with the audio cranked up all the way. But overall it sounded good, and with the effective pseudo-surround and a wide dynamic range, a sudden organ blast had its intended effect. Of course, you'll need a separate surround-sound system to get the most out of today's movie sound tracks.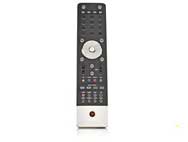 You won't have any trouble setting up the SV421XVT. The inputs (where you plug in your DVD player, DVR, and so on) are easy to access, and the first time you turn it on, a first time wizard asks the relevant questions and scans for channels.
The SV421XVT's menu system is almost as easy to use as it is unique and stylish. The short descriptions of the features at the bottom of the menu are usually helpful, but not always. One annoying aspect of this menu: When you select a menu item with several options, you have to scroll through the options to see all of them. Changing between inputs is relatively easy, thanks to four input shortcut buttons on the remote.
Speaking of the remote: It's big and bulky, but very easy to use. The most important buttons are well-placed and easy to find by touch. And if you're in a dark room and can't find the button you're looking for, press any button and they all light up. It's programmable, too.
Vizia SV421XVT
| | |
| --- | --- |
| Performance | Good |
| Features | Very Good |
| Design | Very Good |
Scale = Superior, Very Good, Good, Fair, Poor
Plug a flash drive into the SV421XVT's USB port and you can view your photos and play music (MP3 files only) and videos. The slideshow feature offers several transitions and a choice of background music from your own music collection.
Macworld's buying advice
The SV421XVT isn't exactly a must-have HDTV. But if price is a high priority, and you're willing to sacrifice some image quality, the SV421XVT is a well-made, easy-to-use, 42-inch television.
[Lincoln Spector is a contributing editor for PC World.]