At a Glance
Expert's Rating
Cons
Can't turn off illuminated logo on bezel
Images marred by digital artifacts
Our Verdict
No doubt about it: With an estimated street price of $1200 sounds good for a 47-inch, 240Hz LCD HDTV—especially one with multimedia capabilities and a terrific remote. But Vizio's SV471XVT major compromise comes to image quality.
Our test jury was not particularly impressed with the SV471XVT's picture clarity: The TV struggled with moving objects on screen, and occasionally had trouble with still objects, too—it displayed plenty of digital artifacts and pixelation in lab's image quality tests. Halos of garbled pixels surrounded running players in a 720p baseball clip. Artifacts around small objects appeared in a 720p clip from Wheel of Fortune. Two of the three 1080i clips also had artifacts, and a scene from the Phantom of the Opera DVD had a halo even around someone walking slowly (artifacting is usually more of a problem with fast-motion sequences).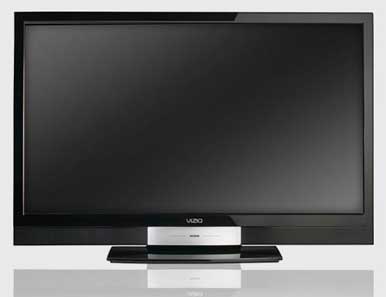 The SV471XVT did better with Blu-ray discs screening at its native 1080p resolution, but even here I saw moiré patterns in images of the Hong Kong skyline (shot in the large Imax film format) in Chapter 9 of the Blu-ray version of The Dark Knight. At least one other judge noticed moiré patterns in the weave of Morgan Freeman's jacket (in a scene that wasn't shot in Imax).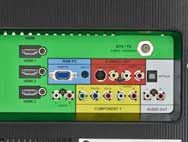 Shouldn't the 240Hz refresh rate fix this sort of problem? Not necessarily. In fact, the 240Hz Smooth Motion frame interpolation (which adds nine extra frames between the real ones) fixes some problems but can cause others.
After our jury tests, I ran Chapter 9 of The Dark Knight a few more times, trying the Smooth Motion interpolation option at different settings. I discovered that the Smooth Motion interpolation was the cause of the moiré pattern on the building; the building was rock solid when I turned Smooth Motion off. On the other hand, a rooftop tracking shot that looked fine with Smooth Motion switched on jittered a bit when it was off. The SV471XVT did quite well in the panning tests created by the lab, which measure how smoothly a TV can handle panning and fast motion.
The SV471XVT also had some problems reproducing accurate color and brightness. Several judges noted that some scenes looked too dark; and others, too reddish or orange. Some faces in another Phantom of the Opera DVD scene looked blotchy and artificial, like a hybrid between a photograph and an oil painting, indicating that the SV471XVT had difficulties upscaling 480p DVD video to 1080 high-definition resolution.
The model's built-in speakers are below average and have a low-volume output. Turning the volume up all the way gave me a comfortable listening level, which suggests an underpowered sound system. The simulated surround-sound had very little depth. But the system had enough dynamic range to give a sudden organ blast a reasonably good punch. Of course, you want an external surround-sound system to give modern movie sound tracks their due.
An unwanted "feature" is the glowing Vizio logo located right below the screen. Other companies place light-up logos on their TVs, but the SV471XVT won't let you turn off this otherwise minor annoyance. (Every non-Vizio HDTV I've looked at with a glowing logo has an option to shut it off.) The Vizio light remains on even when the TV is off, albeit considerably dimmer.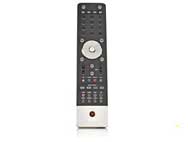 This seems an odd waste of power for an Energy Star 3.0-compliant HDTV, though the SV471XVT uses about a third of a watt when powered down, which is about in line with the other sets we tested. It burns about 113 watts when in use, which is lower than some TVs in this size class, but not extraordinary.
As for setup, the wizard asks all the right questions (such as whether you'll use the TV at home or in a store, thus optimizing its settings to look best in either location), then scans for channels. The on-screen menu is a smart, stylish, and generally easy-to-use 3D black gadget on the left side of the screen. Short descriptions at the bottom of the screen usually help you figure out what your choices are, though some are a bit murky. Luckily, you can find better explanations in the excellent manual.
Other issues: If a menu item has multiple options (as with video preset modes), the menu displays only one of them at a time, so you can't see all the choices available to you. Changing inputs (such as going from the TV's tuner to a DVD player) could be easier. The remote's input button brings you to an on-screen list where you have to scroll through all of the inputs–even those with nothing plugged into them. Four input shortcut buttons, labeled TV, AV, Component, and HDMI, do make the job easier, however.
The remote itself is truly superb. It's big and bulky, but that gives it room for large, well-placed buttons of various shapes and sizes. This variety makes it easy to identify a button by touch, but you really don't have to. As soon as you press one button, they all light up. This remote is also programmable.
Vizia SV471XVT
| | |
| --- | --- |
| Performance | Good |
| Features | Good |
| Design | Very Good |
Scale = Superior, Very Good, Good, Fair, Poor
Plug a flash drive into the SV471XVT's USB port and you can view photos and play music, videos, and slideshows. When you view photos in a slideshow, you can pick assorted transition effects and select background music from the .mp3 files on the drive. But .mp3 is the only music format that this model supports. The SV471XVT lacks network connectivity, so you can't play media from PCs on your network.
The unit also has a picture-in-picture function, although it works only between the tuner and an external input. You can't view two channels or two inputs.
Macworld's buying advice
The SV471XVT wins points for being easy to use, and its low sticker price is certainly appealing. But its picture quality issues prevent it from being a top contender.
[Lincoln Spector is a contributing editor for PC World.]