WorldVoice Radio by RnSK Softronicsis an ambitious project. The $3 app aims to give you the power of your own podcasting recording studio and unique Internet radio station in the WorldVoice Radio network. You can also browse and listen to other WorldVoice stations around the world.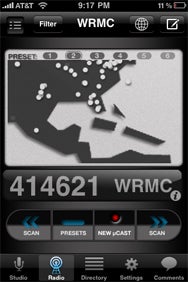 The first step to creating your own Internet radio station is to create a free account. You'll be assigned a unique identifier for your station, but you'll get to pick the call-sign. Use the in-app studio to record your audio program or create one on your computer and upload it to your iPhone via the built-in Wi-Fi file server. Once your podcast is published, it's accessible to other WorldVoice Radio users or via any Web browser. You can also choose to share your programs with your followers on Facebook and Twitter.
The WorldVoice Radio interface harkens back to the days when shortwave radio was the only way to be heard across the globe. You'll hear the tuning sounds of an analog radio as you select different radio stations and watch a map of the world scroll and zoom to zero in on the location of the station you choose.
You can select stations at random with a quick shake, or you can browse the directory and search for stations by keyword. You can even leave comments for a station or visit their Website.
Since the WorldVoice Radio network is relatively new, you won't find a huge selection of stations and most of the recordings are simply tests. Should the app gain traction—and users—that's sure to change.
WorldVoice Radio is off to a great start, but with any ambitious project, there are bound to be a few hiccups. Recording audio programs was easy, and getting around the app is a straightforward. The use of the animated map makes discovering new stations loads of fun.
However, I ran into difficulty confirming that my programs were, in fact, accessible on the network. Selecting my station listed my different programs, but on one occasion, selecting it resulted in a canned WorldVoice Radio message instead of my recording. Checking my recording via a Web browser didn't help, as I encountered a "Please wait. uCast Loading" message. I waited and tried again, and the next time my program was playable in the app. Unfortunately, there were still problems with the browser-based version.
There is a lot of potential with WorldVoice Radio. The in-app audio recording feature is very easy, and the option to upload an audio program produced on a computer is very nice. The interface is beautifully designed, and finding programs is fun with the animated map of the world. If the browser-based experience is fixed and expanded and more people fill the directory with interesting content, WorldVoice Radio could be a real winner.
[James Savage is the host of the RetroMacCast a weekly podcast devoted to older Macintosh computers.]