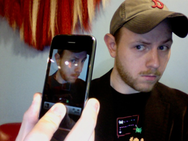 Ever tried to take a self-portrait with the iPhone's camera? It's not what you might call "super-easy." Because there's no physical button to press, you can't find the camera shutter control just by feeling around (well, without marking the glass over the shutter button by, say, scratching it, which we don't recommend). So you end up flailing around, holding that smile fixed on your face and hoping that sooner or later you'll take a picture and you won't look completely ridiculous.
There is an easier way, though. The iPhone's shutter control doesn't trigger when you press the camera button, it triggers when you release it. So the simple trick for taking better iPhone self-portraits is to press and hold the camera button, then turn the phone around and snap the picture by releasing your finger. It still doesn't always work perfectly, but it's definitely an improvement. Also, flipping the phone out of silent mode beforehand means that you'll actually get the audio shutter-click when you take the picture, so you know when it's safe to check your work.
And if you decide better for whatever reason, you can cancel taking a picture by just sliding your finger off the camera shutter button—make sure to keep it in contact with the screen, though. No harm, no foul, no picture (or, you know, you could always take the picture and delete it later—if you dare).
As for making it easier to line-up self-portraits, well, like most cameras that don't have a flip-out LCD screen, the iPhone can be a bit hit-and-miss. But if you've got a mirror, window, or iSight-enabled Mac handy, you can frame your shots much easier. Of course, if you have an iSight-enabled Mac handy, you should probably just take the picture with that, right? Right.
If you've got an iPhone tip you'd like to share with the world, send it over to iphone@macworld.com and put "iPhone Hint" in the subject line.