iPhones and Blackberries have made the Rolodex about as obsolete as Betamax, or at least as endangered as the Delhi Sands Flower Loving Fly. The Wall Street Journal profiled a few cultish Rolodex bitter-enders a couple of years ago in a story about how the rotary file maker is reinventing itself for the 21st century. Rolodex has culled its product line, eliminating most of its larger models. Yet the business card remains as commonplace as the DVD and the carpenter ant. You've got to do something with all of those cards.
But who needs a Rolodex when you can cram hundreds or even thousands of business cards into a device slightly smaller than a pack of cigarettes? Turning Hildaur L. Neilsen's half-century old invention into a tool for the iPhone was a no-brainer for app developers.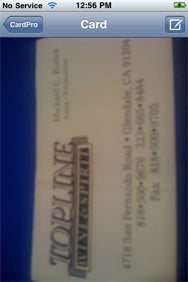 That said, Evan Reas' CardPro and CardPro Lite likely won't cause the Rolodex people to lose much sleep. Reas, a graduate student in business administration at Stanford, has developed a nifty little business card organizing app. CardPro lets you keep track of your contacts by snapping a picture of their business cards with the phone's built-in camera and entering the name and company. No more huge, unorganized piles of business cards or cubicle-consuming flip-filing gizmos. And, theoretically, CardPro should save time. Snapping a picture of a business card and tapping in a few words is quicker than entering a name, number, e-mail address, and other information to a contact list.
As always, there are caveats. CardPro relies almost exclusively on images, so the app will work better with later models of the iPhone than with older generations. The camera is simply better in the newer iPhone 3GS. I tested CardPro on an original iPhone, and found the resolution to be merely adequate and at times poor.
In any event, the quality of the image also depends greatly on where you take the picture and also the characteristics of the business card you're shooting. Even with a 2-megapixel camera, you might have some trouble reading a text on an image of a business card with unusually small type. That isn't the app's fault, but it's something to bear in mind.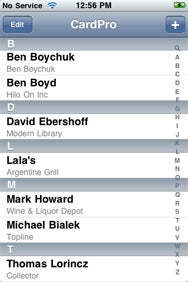 CardPro's simplicity might be its strongest selling point, but the app could use a few additional features to make it a more useful business-networking tool. It would be helpful to be able to browse not just by name, but also by company. Every app of this kind needs a notepad feature that allows users to add pertinent information beyond what's on the business card.
There is no easy way to back up the data on CardPro. You can e-mail cards to your contacts and to yourself, naturally. But that's not an efficient way of protecting your data. The app could use some other way of keeping the information secure, especially if you acquire many hundreds of business cards.
CardPro Lite is a free version of the app that lets you store around 100 business card contacts. It's a fine way to test whether the $1 CardPro will meet your needs.
[Ben Boychuk is a columnist and freelance writer in Rialto, Calif. Feel free to e-mail him.]