Head-to-Head: iTunes Match versus Amazon Cloud Player
Amazon Cloud Player
What made iTunes Match unique upon its release was its matching ability: If iTunes determines that the Store has copies of the tracks in your iTunes library, you needn't upload your copies, since the Store simply delivers those it already has. This approach saves both time and bandwidth.
When Amazon Cloud Player launched, it didn't offer matching. Although you could stream and download the tracks you purchased from Amazon MP3, you had to upload any tracks that you had obtained elsewhere. The latest version of Amazon Cloud Player changes that. As with iTunes Match, if Amazon recognizes tracks in your music library (iTunes, WIndows Media Player, or a selected folder) as being part of its catalog, it will match those tracks. And, also like iTunes Match, the service allows you to upload those tracks that aren't available from Amazon.
So, what are the differences? First of all, unlike iTunes Match, Amazon Cloud Player has a free version. That version gives you access to any eligible tracks you've purchased from Amazon MP3 (meaning those that the music labels allow to be part of the service); it also lets you match or upload up to 250 tracks from your computer's music library.
If you subscribe to Cloud Player Premium (at the same $25-a-year rate as iTunes Match) you have access to up to 250,000 tracks—10 times the maximum number on iTunes Match. (Note that Amazon also offers Cloud Player Premium with file-storage plans that cost more than $25 per year.)
Amazon Cloud Player is more generous in regard to the types of files it can match. In addition to matching tracks in the AAC, MP3, AIFF, WAV, and Apple Lossless formats, Cloud Player recognizes WMA, OGG, and FLAC files. Note, however, that it can upload only AAC and MP3 files; you'll need to convert other files to one of those types before uploading. As with iTunes Match, unmatched files download in their original format. Matched tracks download as 256-kbps MP3 files.
Like iTunes Match, Amazon Cloud Player lets you stream and download music over Wi-Fi as well as over a cellular network. Amazon Cloud Player will neither match nor upload DRM-protected files (such as those music files you may have purchased before Apple removed copy protection from its iTunes Store offerings). And it won't import files larger than 100MB, nor will it accept ringtones, podcasts, or audiobooks. As with iTunes Match, any matched music you download is yours to keep, even after you've allowed your plan to expire.
Amazon Cloud Player provides broader device support than iTunes Match does. In addition to streaming and downloading songs to iOS devices (via the Amazon Cloud Player app), you can play and download music with any computer Web browser; stream music from the iOS version of Safari; download and play music on a Kindle Fire, Android, or BlackBerry device; and stream Cloud Player content on a Sonos multiroom music system. Support for Roku players is coming soon.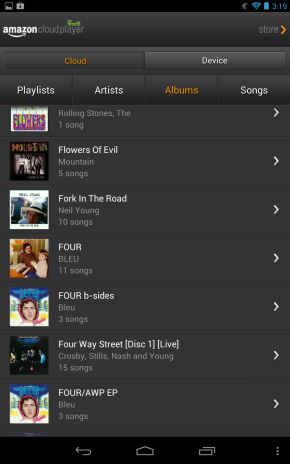 If much of your world is built upon Apple technology, Amazon Cloud Player is a less elegant option than iTunes Match for a few reasons. First, you'll find no version of the Cloud Player app designed specifically for the iPad. The version made for the iPhone and the iPod touch is a little ungainly and doesn't make use of the iPad's more expansive screen. Second, as mentioned above, if you have DRM-protected tracks purchased from the iTunes Store, Amazon Cloud Player can't match or play them. Third, to play Cloud Player content on your computer, you must use a Web browser and Amazon's somewhat clumsy interface. Finally, as with iTunes Match, you'll encounter missing or mismatched artwork, duplicate tracks, and tracks that should have matched but didn't.
Matching and uploading tracks from your computer is more of a bother with Amazon Cloud Player than it is with iTunes Match. Since iTunes Match is built into iTunes, you can begin the process simply by choosing a command. In contrast, to match and upload your tracks to Amazon Cloud Player, you must go to the Cloud Player webpage, log in with your Amazon account, click the Import Your Music button, and wait while the Amazon Music Importer application (an Adobe AIR application) downloads to your computer. After you install the application and launch it, you can start matching (and uploading the songs that don't match) by clicking the Start Scan button. The application then scans your iTunes or Windows Media Player libraries for compatible music files. (Alternatively you can click Browse Manually and choose a directory that contains your music.) The process isn't terribly onerous—particularly considering that you have to use the application only when you're adding new music—but it's certainly more complicated than using iTunes.
One or the other
Apple may have introduced matching almost a year before Amazon did, but now that the feature has come to Cloud Player, Amazon's service is tempting. If you own a music library that has swollen to more than 25,000 tracks and you want access to it anywhere, Cloud Player is the obvious choice. And if you don't live entirely in Apple's world and you use a Kindle Fire, an Android device, or a BlackBerry, or if you want to stream music to a Sonos system or (eventually) a Roku box, Cloud Player provides the means. Plus, if you sign up for a premium plan, Amazon gives you (at the very least) 50GB of cloud storage to do with as you please.
iTunes Match, however, is no slouch. Its integration into iTunes, the iOS Music app, and the Apple TV put it within easy reach for a lot of people—it's more pleasurable to use on those devices than is Amazon Cloud Player. It's also easier to set up than Cloud Player, as you can invoke it with a single menu command. And some people claim that an AAC file encoded at 256 kbps sounds better than an MP3 file at the same bit rate (but those without golden ears will be hard-pressed to tell the difference).
Which service wins? Having your music available from just about anywhere—regardless of the service that delivers it—is miraculous. For more music and greater device compatibility, Amazon Cloud Player is the right choice. For a better experience on iOS, iTunes is your match.
Updated at 6:23 a.m. PT to correct an error in the chart comparing the two services.
This story, "Head-to-Head: iTunes Match versus Amazon Cloud Player" was originally published by TechHive.
Shop Tech Products at Amazon