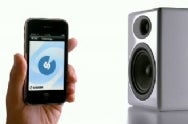 Nothing in life is ever free—or perhaps it's best said that nothing's free forever. Shazam, makers of the free iPhone app that single-handedly ruins song-guessing quiz games, has unveiled a new $5 app for the iPhone: Shazam Encore.
If you're already using the free iPhone app, you can still tag songs to your heart's content with the free version of Shazam. However, new users of the free version are now limited to tagging only five songs a month—as an upside, though, they can post their tags to a Facebook feed, so they got that going for them, which is nice.
So what does Shazam Encore offer over its free sibling, besides unlimited tagging for new users? Well, Shazam Encore boasts practical enhancements like faster tagging of music, so you can spend less time holding your phone up to the speakers. "Hello, Judas Priest? Got a call for you."
There's also a brand new "car mode" that's automatically activated when your iPhone is plugged into a car adapter. Car mode automatically tags whatever music is playing on the radio while you're driving, thereby eliminating the need to tap the "tag music" button every five minutes. I'm not sure how much safer it is to be watching Shazam's tagging magic at work while you're driving, but there you have it.
Shazam Encore also offers a series of iTunes Store-like features, such as recommendations for your existing tagged tracks, the ability to browse through Shazam music charts generated by other users, and the ability to search through Shazam's database of music by artist, album or track. Just like iTunes, with the benefits of Shazam's wider library of songs.
The situation is a bit of a Shark Sandwich for folks still using the free version of Shazam. Maybe Shazam Encore isn't a fair tradeoff for the new limitations, but as they say, the times, they are a-changin'.
[via VentureBeat]