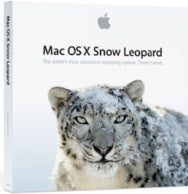 On Monday, Apple released Mac OS X 10.6.2, the latest update to its Mac OS X operating system. As you might surmise, it contains a number of fixes and feature enhancements for the newest big cat. Apple, as always, recommends 10.6.2 for all users running Snow Leopard.
Among the general issues addressed in the update are a well-publicized if unusual bug that could result in data loss when using a guest account, a problem that could cause a system to logout unexpectedly, Spotlight search results not showing Exchange contacts, the reliability and duration of VPN connections, VoiceOver performance, and video playback and performance issues that could crop up for the latest iMacs when AirPort is active.
Apple's also broken down a number of other fixes into functionality categories. Font fixes, for example, include an issue with font space, font duplication issues, and a problem with PostScript Type 1 fonts not working properly; graphics fixes include glitches connecting monitors via DVI or Mini DisplayPort adapters and the brightness setting not getting remembered between restarts.
Mac OS X 10.6.2 also provides patches for a number of problems with Mail, including the return of deleted RSS feeds, a problem where you can't preview attachments in new messages, Address Book and Mail freezing up when opened, and Mail's unread count not updating properly when messages are read on another computer.
Lest you think MobileMe got left out, think again: your iDisk should now be snappier when accessed from the Finder and have better syncing performance; reliability and performance when syncing info via MobileMe, iTunes, or iSync should be improved; and you shouldn't run into a problem where syncing iDisk files stalls at "checking items." There are also a handful of minor fixes for network file systems, printing and faxing, and Safari.
Among our favorite smaller features this time around? The ability to enter and send more than one fax recipient in the Print dialog box (which should please all time-travelers from the late '90s), a fix for the shutter-click sound effect when taking a screenshot (and here we were worried that the shutter-click had gone the way of the Polaroid camera), and—thank heavens—an apparent resolution of my pet peeve with the four-finger swipe.
There are also, as usual, security fixes and patches in 10.6.2, including a number of holes closed in the Apache Web server software, the CoreMedia framework, Launch Services, and QuickTime.
Apple also updated Mac OS X Server to version 10.6.2, including a fix for a problem where the Web calendar interface wouldn't work when the server was in the Indiana/Indianapolis time zone, a Keychain issue which might have prevented managed clients from performing Time Machine backup, and improved Mail Clustering reliability, among fixes for a host of other problems.
The 10.6.2 update is available via Software Update and Apple's support downloads site. The size of the download in Software Update may vary depending on your computer.