At a Glance
Expert's Rating
Pros
Excellent picture quality even in low light
Good range of manual controls
Built-in storage capacity
Cons
Wind noise
Build quality not as good as some rivals
Interface can be confusing
Our Verdict
Panasonic's HDC-S300 HD camcorder comes with a hard drive with a staggering 120GB of storage, plus further expansion opportunities via an SDHC card slot. And unlike many of its rivals, the HDC-HS300 features not one but three CMOS image sensors (one each for red, green and blue video signals) with a total video resolution of 6.21 megapixels effective.
The HDC-HS300 also offers a maximum AVCHD video recording resolution of 1920-by-1080 at 17Mbps, which looks a lot lower than the 24Mbps that Canon uses is similarly-priced camcorders. The HDC-HS300 includes a lens ring for focusing, and other manual functions such as zoom, an electronic viewfinder and a 2.7-inch touchscreen LCD. The camcorder also has a 12X optical zoom, plus face detection with pinpoint focusing via the touchscreen.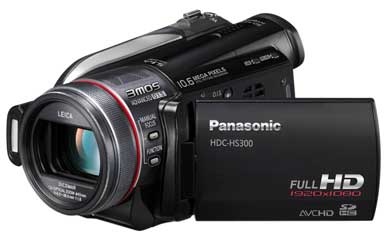 The HDC-HS300 includes a full-size (cold) accessory shoe and 5.1-channel surround sound microphones on top of the lens. I've seen other camcorders that are built more user-friendly than the HDC-HS300, which has some hard-to-press buttons and a main zoom toggle that's too small to use comfortably.
The camcorder has a good range of advanced features, including zebra patterns, a choice of video shooting modes and white balance settings that are accessed via the menu button below the LCD. Team that with the physical buttons for functions such as Intelligent Auto, two sets of zoom switches and the touchscreen functionality and it's all a bit random, until you get used to it.
When it comes to picture quality, the HDC-HS300 excels. Using three CMOS sensors doesn't detract from the end result, which is footage that's among the best we've seen from a HD camcorder. You get detailed, natural-looking images and in Digital Cinema mode, 25p recording and the extended xvYCC color space to boot.
Sound quality from the 5.1-channel microphone is good, although there is tendency to pick up wind noise. I had no problems getting our footage into iMovie '09.
Macworld's buying advice
Panasonic's HDC-HS300 is capable of extraordinary video quality and offer a good range of manual options, with manual lens ring controls that are as easy to use as they are capable.
[ Rob Mead is a freelance journalist.]