When Apple released its updated laptop line in the fall of 2008, there were oohs and ahhs at the shiny new unibody enclosure and buttonless trackpad, but there were also groans and eye-rolling over what appeared to be yet another new display connector, Mini DisplayPort, which replaced the Mini-DVI and Mini-VGA connectors formerly found on Apple's computers. Like a zombie outbreak, the connector then mercilessly spread from the laptops to the rest of the Mac family.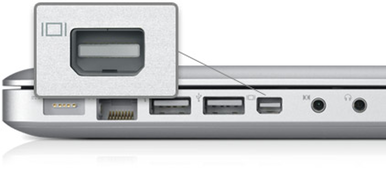 On Tuesday, the Video Electronics Standards Association (VESA)—keeper of the DisplayPort standard—announced that Apple's Mini DisplayPort connector has been officially adopted as part and parcel of the DisplayPort specification, both in its current 1.1a revision and the forthcoming 1.2 version. These plans were first reported in January.
VESA says the Mini DisplayPort connector, which it has licensed from Apple, can be used as an alternative for the full DisplayPort connector, and supports all the correct electrical and protocol specfications; the smaller size makes it ideal for small notebooks—your MacBook Airs, for example—as well as those blasted netbooks.
As for DisplayPort 1.2, the finishing touches are going on the specification now, including doubling the available bandwidth to an eyeball-bursting 21.6 Gbps. That'll let you support multiple monitors on a single connector, as well as higher resolutions, refresh rates, and color depths. Oh, and it'll allow for newfangled high-performance 3D displays, too—just in case you find yourself unsatisfied with a paltry two dimensions.
The adoption of Mini DisplayPort is certainly a good thing for Mac users—hopefully, it means we'll start seeing more displays and accessories with the connector, eliminating the need for annoying dongles and adapters. Of course, I'll still need an adapter to connect to my 40-inch HDTV, which is now totally out of date despite being just six months old. Curse you, technology.
[via Engadget]