When you spot the Family Guy app from Fox Mobile Entertainment in the App Store, the question is pretty simple: Is it freakin' sweet?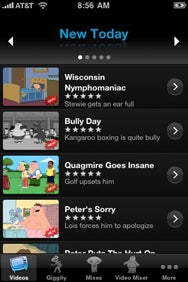 The app promises video clips, minigames and more. On the clips front, Family Guy certainly delivers. You can browse through various funny categories—Classic Peter, Bloody Moments, Evening News, for example—and new clips are added frequently. When you tap to play a clip, though, be prepared to sit through a 15-second pre-roll ad. A 15-second ad before a 30-second clip strikes me as overly invasive, particularly in an app that I've already paid for. (Family Guy normally costs $2, but the app is on sale for $1 until November 15.) In my testing, I got ads before every single clip I watched.
Even more annoyingly, when one clip finishes, the app attempts to start playing another one immediately. But it seems that's really just an excuse to show another ad. The frequency of ads in a paid-for app rubs me the wrong way.
The Giggity tab sports two minigames, though that's a very generous label for Peter Toss and Stewie Pinup. Neither activity should appeal to anyone old enough to appreciate Family Guy's humor; my toddler would be bored in under a minute just swapping Stewie's outfit.
Finally, the app lets you create custom mixes of Family Guy clips and watch other users' creations, as well. Creating any kind of meaningful mix would be painstaking, and it's really just an excuse to assemble your favorite moments from the show or watch someone else's.
The main video clips in the Family Guy app are its best feature, but the incessant advertising really detracts from the overall experience. The rest of the app's feature set adds no value, and the whole thing ends up being, in the words of Peter Griffin, a freakin' disappointment.
[ Lex Friedman is waiting for a Simpsons app.]